Jamal Khashoggi's death should warrant a strong U.S. response
In the aftermath of the murder of Jamal Khashoggi, United States needs to take a stronger stance against Saudi Arabia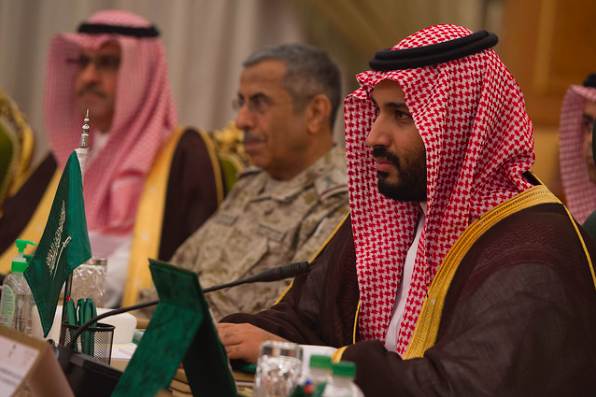 For a while, it was believed that Saudi Arabian crown prince Mohammed bin Salman was doing good for Saudi Arabia. He has proposed several social reforms for his country, the most well-known being that he allowed women to drive. However, the dark side of his reign is still evident: he has exacerbated conflicts in Yemen as well as tensions in the Middle East and increased the number of executions in Saudi Arabia. Most ironically, he continues to imprison women's rights activists.
Mohammed bin Salman's policies all seem to shed light on one key issue: he still does not, and likely will never, entertain insurgents, regardless of whether or not they are violent. The 'insurgent' I am referring to is American resident and Washington Post columnist Jamal Khashoggi. On October 2, Khashoggi entered the Saudi consulate in Istanbul, Turkey, to finalize papers for his wedding and did not come out. He is now confirmed dead––likely murdered by the Saudi regime for his critical writings on bin Salman's policies.
Many of Khashoggi's columns for the Washington Post critique an aspect of Saudi policy. Most of these directly call out the crown prince: four critiqued his foreign policy, five advocated for an increase in women's rights, and six called out corruption and censorship in his regime. (Read his columns here).  To us, a critique of the government is not a monumental incident; in the United States, it's no major feat to find an opinions piece critiquing President Donald Trump. However, in Saudi Arabia, censorship is rampant and freedom of speech is heavily restricted.
Khashoggi's murder should have created an enormous amount of tensions between the United States and Saudi Arabia–yet President Trump insists that relations with the Middle Eastern nation are "excellent." In saying that all is well in relations with Saudi Arabia, the U.S. is all but complicit in Mohammed bin Salman's absolutism. We put on a front that demonstrates that the United States does not care enough about Mohammed bin Salman's rampant censorship, suppression of reform, imprisonment of peaceful dissenters, corruption, and violations of human rights and laws of war in Yemen.
"
We cannot continue to be complicit now that an American resident has been murdered."
— Jacqueline Bucaro
The United States needs to take a stronger stance against Saudi Arabia in this instance. We have remained largely complicit in the past when activists have been jailed or killed. We cannot continue to be complicit now that an American resident has been murdered.
So far, allies of the United States, as well as Saudi Arabia, have threatened or imposed economic consequences on Saudi Arabia. Germany's Chancellor Angela Merkel has placed an arms embargo on Saudi Arabia. France has threatened to do the same. Unfortunately, the United States has thus far implemented no such consequences.
The issue here is that it is difficult to decide what to do about Saudi Arabia. Khashoggi's murder is an issue of the scale that may merit a damaging but not wholly militant response, such as economic sanctions on Saudi Arabia. However, this response is dangerous at best. Saudi Arabia has been detailing the consequences of economic sanctions; namely, an economic disaster stemming from a rise in oil prices.
Navigating the political and economic implications of any action taken against Saudi Arabia will be a difficult process. However, when looking at the fact that an American resident was murdered on sovereign Saudi soil, it is certain that the United States government should take the time to consider the best way to strike back against Saudi Arabia.