Hockey players discuss their opinions on Flyers hockey vs. BSM hockey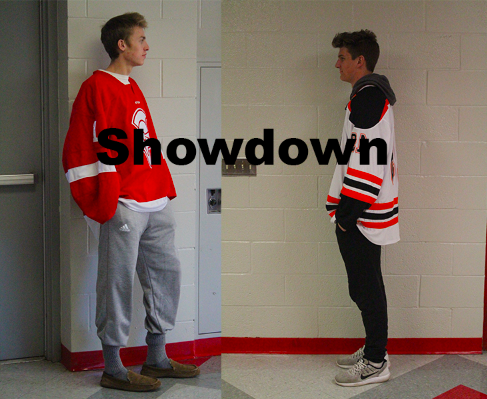 In the BSM community hockey is very prominent, whether it be the boys of the BSM hockey team or members of the St. Louis Park Flyers. Over the past few weeks hockey tryouts have been in full swing, and now with the teams established both teams have started their regular schedule.
Although the teams are friendly towards one another, both teams have an opinion on why their team is better. While the SLP flyers are a recreational team, they remain highly competitive because of their state participation the last three years and their 2010-11 State Championship title. Contrastingly, the BSM boys Commit themselves year-round to their hockey careers.
"
Honestly, a lot of people get sick of how intense [BSM hockey] is and are bored with it. They want something new that is laid back and fun."
— Quinn Ehlen
Senior Ben Scherer has been a part of the BSM hockey program since his freshman year, but this year he decided to join Flyers. While Scherer's three years with the BSM program were a positive experience, he decided to make the switch to the Flyers because the rec team demands less commitment. "I just wasn't willing to be fully committed to hockey. I respect the coaches, the locker room atmosphere, and my [former BSM hockey] teammates," Scherer said. 
Scherer isn't the only player who came to the flyers seeking a less intense environment. "Honestly, a lot of people get sick of how intense [BSM hockey] is and are bored with it. They want something new that is laid back and fun," Junior Flyers player Quinn Ehlen said.
Scherer looks forward to a different level of competitiveness and a fun season with the team, all culminating at the state tournament at Braemar Arena. "[I am looking forward to] playing hockey leisurely, but still competitively, and going to Duluth with the team," Scherer said.
Senior and BSM hockey defenseman Dawson Spindler enjoys the commitment and elevated level play associated with varsity high school hockey. "[BSM hockey] has tradition. It comes down to the competitiveness and what you want out of hockey. The flyers boys do it for enjoyment and fun on a different level, while the BSM players experience different competition at a higher level that could lead to a career outside of high school hockey," Spindler said.
Any intensity the Flyers lack on the ice compared to BSM, the organization makes up in the stands. When it comes down to fans at the Flyers and BSM games, the Flyers take the cake. "The Flyers probably have the better fans, because Flyers fans get more rowdy," Spindler said.
Second year Flyer member Quinn Ehlen holds strongly onto the "fly or die" mentality, especially when compared to the Red Knights. "Flyers would win any day over Benilde, we got the grit," Ehlen said.