Senior José Machuca buys and sells shoes as a business
Since 2014, senior José Machuca has bought top brand shoes and sold them for a profit. Initially, the enterprise was only about making a little extra cash, but it's since evolved into much more. Machuca bought sneakers from raffles and sold them to close friends, but now he's buying his products from retailers he's met through his work and selling them on the internet. It's been a long ride learning all the tricks and trade of his business, but Machuca's experience has brought him to the top.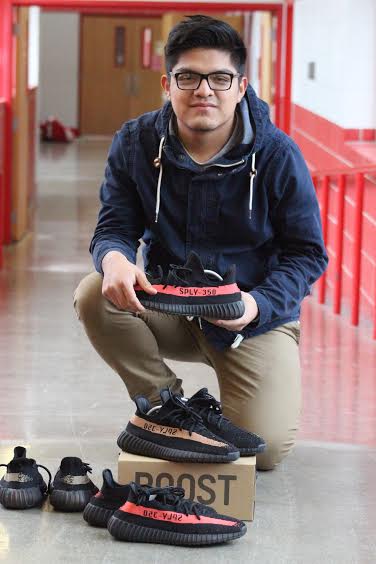 Machuca's first job was working in a store at Nickelodeon Universe; he saved every penny he made. With all his money saved up, his older brother Jesus––a 2014 BSM alum––helped conceptualize the idea of investing in selling sneakers. With saved money from Machuca's first job at Nikelodeon Universe saved in the bank, his parents supported him as he began his shoe trading operation."I honestly did this so I could pay for my own phone bill, my clothes and my shoes. I also wanted to pay off some of my college tuition with the money I earned; I knew it would take a huge weight of my parents' shoulders," Machuca said.
Machuca buys brand-name sneakers from vendors in person and sells them to various people through social networking, specifically Facebook. He will post pictures of his products––Yeezys by Kanye West, other Adidas shoes, and even Jordans by Nike––on Facebook, and then people will start submitting offers. "I started with Jordans; Jordans sell. They're a very classy type of shoe because Michael Jordan was such a big basketball player, so they're very popular. But now I sell Yeezys because I make more money off of them, and I have connections to people in retail that can sell them to me without using raffles," Machuca said.
When Machuca first started his business, he was a little reserved, but since practicing negotiating and networking skills, he's transformed a people person. "I had to learn how to say yes or no to deals if I wanted to work with people, and I've also learned how to communicate more. My business helped me to get out of my shell and talk to people more easily," Machuca said.
While reselling sneakers yields about double Machuca's previous salary, for Machuca, it all comes down to helping people. When one of his close friends desperately wanted a pair of Yeezys, Machuca sold him a pair for a price slightly above retail. Although Machuca made a small profit, he was happy to just help his friend out. "After a while, I would say it's not too much about the money, but more about the people. I like seeing people smile once they get a shoe they've really wanted; if I can do that and make money, I'm happy," Machuca said.
Machuca is very excited for the future of his business; he has many ambitious ideas. Next year in college, he would like to broaden his business' boarders and develop a website for selling shoes. "It will make buying and selling shoes way easier and safer. After a while, I'd love to open up an actual store. It will take a lot of work, but I know I can do it someday––I've gotten so far already, might as well go further," Machuca said.