BSM expands annual Interfaith Prayer Service
The annual Interfaith Prayer Service offers an opportunity to take a moment out of the year away from Benilde-St. Margaret's typical Mass to unite the various faiths that are present. Thanksgiving is the appropriate time to bring people together with this kind of prayer service.
Representatives from many religions visited BSM for the annual Interfaith Prayer Service on Monday, November 21, for this service. BSM's chaplain Father Tim Wozniak, Reverend Elaine Barber from the Episcopal Church, Rabbi Avi Olitzky from the Beth El Synagogue, a Jewish synagogue, and Tamim Saidi from the Northwest Islamic Community Center in Plymouth were all present. Former Campus Minister Mr. Mike Jeremiah had the idea to start the Interfaith Prayer Service about six years ago, and it has been going strong ever since.
All of these people were chosen because of their representation of the Abrahamic faiths. In the past, only Judaism and Christianity had been present, but this year there was an Islamic representative. "I was really intent on having a Muslim representative this year because I just thought it made sense. If we're going to have two of the Abrahamic faiths represented, why not have all three? That was sort of my contribution to this year's prayer service, having Tamim here," Campus Minister Mrs. Rebecca Meagher said.
"
If we're going to have two of the Abrahamic faiths represented, why not have all three?
— Mrs. Rebecca Meagher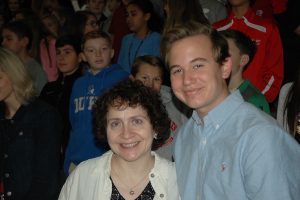 In the Islamic faith, imams are the equivalent of priests or rabbis. Although he is a leader in his faith, Saidi is not an imam. The Northwest Islamic Community Center does not have an imam, so Saidi acted as the faith leader. "[Saidi] is also a part of a speaker series that goes out and educates Christian organizations about Islam. Tamim is actually a connection through Ms.Claire Shea and her husband and brother-in-law who are Muslim," Meager said.
By incorporating different religions into the service, BSM is following what the Catholic faith calls us to do. BSM is called to interact with people of different faiths, ask questions, and be empathetic, which is all stated in the Second Vatican Council. It also helps in developing more of an appreciation for one's own faith.
This service is not the only way that BSM has tried to incorporate awareness of different faiths. "We have the World Religions class, and many times the kids who are in that class have a whole new positive perspective of their own faith, by studying other religions," said Jeremiah.
In the future, BSM may look to expanding the service by incorporating more religions outside of the Abrahamic faiths, such as Buddhism and Hinduism, which were mentioned briefly during the service. It started with the three Abrahamic faiths since they all worship the same God, so they are more familiar. "[Including other religions is] something that we can definitely look to in the future, as far as expanding that realm, but I think what we did with the prayer service [this year] was such a beautiful thing. It was much needed by the BSM community, just to show regardless of differences that we may have, there are so many more things that we have that are alike that make us the same," Jeremiah said.
Two Jewish members of the BSM community contributed to the service through song: Senior high teacher Ms. Rosalie Goldberg and junior Noah Bridges. They sang Hinei Mah-Tov, which translates to "How good it is, and how pleasant, when we dwell together in unity." This isn't new territory for them, as both Goldberg and Bridges sang Oseh Shalom, a prayer for peace, at the service last year. "[Being a part of the service is] important to me so that I don't feel cast aside," Bridges said.
Both Bridges and Goldberg are active in their faith and sing outside of the prayer service. Noah Bridges sings in the choir and at his synagogue, which used to be Bet Shalom in Minnetonka, although he is in the process of switching to Beth El Synagogue. Goldberg also has an active faith life. "I sing to my kids and at a Jewish temple, Temple Israel, for the holidays as a part of the prayer service," Goldberg sad.