Walk into the Haben Center on any given Tuesday or Friday afternoon in the winter and you'll find a sea of students participating in one of the most popular activities at Benilde-St. Margaret's: Intramural Basketball. Donning a variety of NBA and college basketball jerseys, teachers and students alike battle it out on the hardcourt.
The league began when Mr. Pettinger, BSM's athletic director, came up with the idea. "Mr. Pettinger came up with the idea for kids that didn't make any team so they could have the opportunity to basketball if they wanted to. So he came up with the idea of forming a league where kids did not have to practice, but could have a lot of fun playing once a week" said Mr. Will Ola, who runs the league alongside Mr. Mark Snell.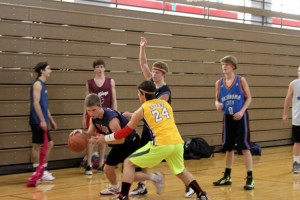 One of the most attractive benefits of playing in the Intramural Basketball Association (IBA) is the casual atmosphere. Sophomore Jay Weber decided to quit traveling basketball this year, but still gets to play weekly with his friends thanks to IBA. "It's definitely a more laid-back tempo [than playing for the school]," Weber said.
But it's not just experienced basketball players out there. There are over a dozen teams that play each week with talent ranging from former varsity players to kids just wanting to get involved in a sport they love. "This year we have 13 teams, so that tells you IBA is pretty strong," Mr. Ola said.
Sophomore Aidan O'Driscoll, more commonly seen on the soccer pitch in the fall, decided to play IBA this year with his friends. "It was just something fun to do after school, so it's been a really good time," O'Driscoll said. His team, "Those Guys" are living up to their name, holding an unimpressive record of 2-4. But that doesn't phase the sophomore. "It's not all about winning. It's about going out there and having fun."
The situation is quite the contrary for senior Luke Musech and his team. "It's definitely 100% about winning for us. It's pretty much why we're there. If we don't come out with the W, it's an unsuccessful day," Musech said. At 5-1, with their only loss coming from the teachers, the seniors expect to do well in the playoffs and win the whole thing. "We'll probably go in with the two seed and we really want to beat the teachers. We've got some strategies to shut them down," Musech said. "We definitely want to win it all."
The senior, who was a member of the varsity basketball team last winter decided to call it quits with the sport this year, but choosing to participate in IBA was a no-brainer. "I love the sport and [IBA] was just an opportunity to be with my friends and play basketball," Musech said.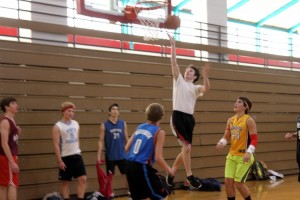 Not only is the after school activity entertaining, it also helps keep kids involved at BSM. "Intramural basketball is good for a lot of kids for a lot of reasons. It keeps kids out of trouble right after school, and it lets them play with a lot of other kids that they may not otherwise have a lot of fun with," Mr. Ola said.
With the raging success of intramural basketball at BSM, there may be a future for other intramural sports in years to come. "We had Sunday afternoon soccer for almost ten years here. I think that could be another sport that we could do on the weekends for intramural sports. I'd guarantee you we'd have a lot of kids," Mr. Ola said.