Three BSM seniors awarded the title of National Merit Scholar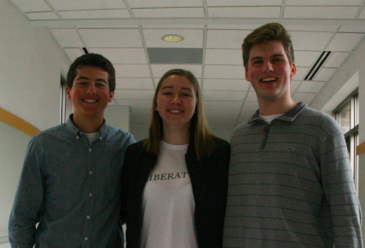 By definition, being in the top 1% of anything is rare. Seniors Ben Larson, Henry Koch, and Abby Letscher all scored in the top 1% of PSAT scores, and because of that, they all received the title of National Merit Scholar.
To become a National Merit Scholar, students have to do extremely well on the PSAT, a national standardized test taken by students during their junior year of high school  The College Board sets a score, and those who surpass the score have the opportunity to apply and become a National Merit Finalist. The National Merit title is awarded to the top 1% of students in country.
Some students find this standardized test to be stressful, while others don't worry about it, as the PSAT does not affect anything unless you do really well."[I] felt pretty relaxed at the beginning when we were just taking the PSAT because you don't really know what everything means; we received our scores, [and] Abby, Henry, and I all talked and got half nervous-half excited as we hoped we'd make the cut-off," Larson said.
The title can open many opportunities for scholarships which can change college decisions and student loans drastically. For Letscher, the recognition for her work felt good, even if the award never held much meaning to her. "While it is cool, and I'm happy that I got it, the title doesn't mean very much to me. Standardized testing is an imperfect measurement of how well someone tests, not how well someone will do in life. However, being recognized for your accomplishments always feels good, so from that standpoint I'm happy about the title," Letscher said.
Founded in 1955, the National Merit Scholar Corporation was invented to recognize academically talented students and to encourage them to further their academic abilities. The winners are based on their overall academic ability and the success they can have in college. There are three scholarships that can be awarded: the Merit Scholarship, the Special Scholarship, and the Achievement Scholarship, which was created in 1964 after the Civil Rights Act, to identify promising black students in America.
The students did not know they got the title until this fall and the official list was released September 13. "Dr. Skinner handed Ms. Andersen a last minute announcement at one of our first assemblies telling Henry Koch and me to stay back and meet with her. She told us then that we'd gotten the title, but we weren't allowed to tell anyone until a couple weeks later when the names of the semi finalists were publicly released," Larson said.
BSM juniors will take the PSAT on October 11 of this year.