Drama department rehearses musical with music written by alum
Every year, the BSM Drama Department performs a musical in the spring. Typically, the musicals they perform originate on Broadway, such as "Urinetown" and "The Drowsy Chaperone" in years past. However, for this year's spring musical, the department has decided to take an untraditional route, and will perform "Wonderland: Alice's Rock and Roll Adventure." What makes this show unique is that it has only been performed at a few theater companies beforehand, and the music was written by BSM alumnus Michael Mahler ('00).
Mahler is involved in the arts and has taken off with his acting and writing career after graduating from New York University. Coming from a musical family, music has always been a huge part of Mahler's life. "Some of my earliest memories were of my parents taking me to their church choir practice or play practice, listening to them sing hymns or show tunes. They both played guitar, my mom played piano," Mahler said.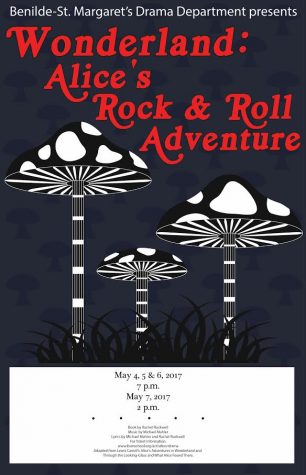 At the moment, Mahler is writing several musicals and acting in one. He's currently in performances of "Little Shop of Horrors" at The Greenhouse Theatre Center in downtown Chicago, wrote "Diary of a Wimpy Kid" for the Minneapolis Children's Theatre Company, "October Sky" for the Old Globe Theatre in San Diego, and "Gravedigger's Hamlet" for Chicago Shakespeare Theatre. Several other projects are also in the works in Mahler's busy theater career.
It's not always easy to try to do more than one thing in an industry as competitive as the arts, but Mahler found that it helps him stay busy if he attacks multiple jobs at a time. "There are times, as an actor, when it's hard to be employed. You're not in control of whether or not you're cast; it's up to a director, and you're not always right for every show, but because I can generate work as a writer, I can stay active," Mahler said.
Because working in musical theater is such a collaborative art form, it can be both nerve wracking and wonderful. Mahler explains that when writing books, you write them basically by yourself, but when you write musicals, you're working with actors, a director, a music director, producers, and your fellow writers. "Working with so many people can make it challenging to come to a singular vision, but also so rewarding when that alchemy happens and the whole is greater than the sum of its parts," Mahler said.
Mahler has been extremely successful in his work. He won a Joseph Jefferson award, the Chicago equivalent of an Ivy award, for best new musical for the show "Hero" that opened at the Marriott Theatre, then went to the Asolo Repertory Theater in Sarasota, Florida. He worked with Jeff Kinney, the author of the "Diary of a Wimpy Kid" series, for the Minneapolis Children's Theatre Company. Also, he's worked with Claude-Michel Schönberg and Alain Boublil on new lyrics for the latest production of "Miss Saigon" that ran in London and is now slated for Broadway in 2017. "It's been pretty spectacular," Mahler said.
BSM pushed Mahler towards achievements and to pursue the career he has today. Not only were his experiences acting in the school plays formative, but Kate Cuddy in choir encouraged Mahler to start writing songs for the liturgy, which in turn led him to pursue a songwriting career. "My teachers at BSM gave me such wonderful encouragement and grounded me in a work ethic that has set me in very good stead. Mr. Backen in AP English even inspired my first musical adaptation," Mahler said.
The cast is very excited to perform this show, especially because the show has only been performed a couple of times beforehand. "The characters, at this point, are so malleable because it's only been produced in this setting and context a couple times before, so I think it'll be cool to be the third person to play my role, and to figure out what my interpretation of the character is," senior Teagan Wolf said.
Leave a Comment