New Introduction to Coding class added to curriculum
Introduction to Coding was introduced to BSM's academic catalog this year for ninth graders. It is a semester-long course in which students are taught the basics of programming languages such as Python, HTML, and Unity. During the course, students create unique projects such as applications, weather vanes, and ticks that showcase the scores of athletic activities in the Haben center.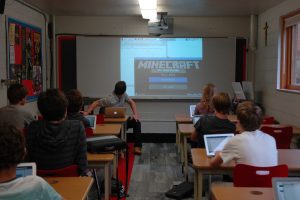 This course is taught by Help Desk provider Mr. Bill Cheney, who founded it in order to fill a gap in the BSM curriculum. "We [have been] known in the Metro for being a leader in technology for years now…[but] I think we were missing a big part of the technology aspect without a coding class," Cheney said.
Men dominate the field of computer science, but Introduction to Coding has better diversity compared to the demographics in the field, which brings Cheney pride. "[The class is] 50% girls in the second semester. I think it's a shift that's quickly happening. It shouldn't be a boys club," Cheney said.
Because this class began this year, its class size is smaller and Cheney finds that this makes teaching easier. "[There are] 16 students each semester, which is cool. The kids get a little more one-on-one time with me, and it helps me [with] knowing all of the kids in the class because it's all very new," Cheney said.
Cheney is interested in expanding the class to other grades and skill levels, but he has concerns. "I'd love to [expand], but… there are already so many great electives already. I'd hate to have [my students] miss out on some other great electives," Cheney said.
Known by most students as Bill, Cheney chose to take on a more formal title now that he's teaching. "The kids call me Mr. Cheney, not Bill, in class. I'm trying to veer away from Bill," Cheney said.
Introduction to Coding, true to its name, only covers the basics of coding, but still has quite a bit to offer those who take it. "My goal is not to make everyone a master coder. My goal is just to really get a general interest in coding. [I want to] light a little fire inside of [my students]. Don't get me wrong, the [class] is fun," Cheney said.
Leave a Comment