Six swimmers will represent BSM Boys Swim at State Meet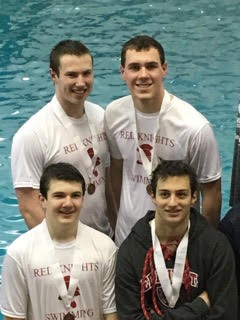 BSM Boys' Swimming competed in their section prelim meet on Thursday, February 25 at Richfield Middle School.  BSM is a part of Section 2A with Richfield, Orono, Waconia, and the combined team of Breck/Blake.  The night was filled with impressive swims and everyone on the BSM team made it back to section finals on Saturday afternoon at 1pm.
Junior captain Tyler Metz highlighted the night, being seeded first in both the 200 free and the 100 free.  All three of the relays were seeded third for Saturday.   
Junior Tommy McGinn swam the 200 freestyle, 500 freestyle, and was apart of both the 200 freestyle and 400 freestyle relays.  He was seeded second in the 200 free and third in the 500 free. Both of the relays are seeded third. "I think that prelims went well. I got a best time in the 200 free and definitely want to improve in that race and all my events.  And maybe we'll see if I can out-touch my teammate, Tyler Metz, who's going to be right next to me in the 200 Free," McGinn said.
Sophomore, Michael Hunter swam the 100 butterfly, 50 free, and was apart of the 200 medley relay, and the 200 free relay. In the 100 fly, Hunter was seeded fourth for Saturday and seventh in the 50 free.  "I think prelims went really well.  I'm happy with how I swam and I dropped time in all my events. I am excited to hopefully do even better on Saturday at finals. Hopefully I can improve my butterfly time on saturday to get to third so that I can make it to State, " Hunter said.
Senior captain Peter McCague swam in the 200 medley relay, 100 freestyle, and 100 breaststroke. He made it back in all his events for Saturday and has an impressive seed of eighth place for the 100 breaststroke.  "Prelims went well, I mean I didn't really check where I was ranked throughout the meet. I was just looking to have fun, but it turns out I am 8th in the 100 Breaststroke, which is pretty exciting.  I am looking to stay around that place for Saturday so that I can try to get that alternate position at state," McCague said.
---
Section Finals went well for the BSM boys swim team on Saturday, February 27.  Five swimmers will be advancing to the MSHSL State Swim Meet, which will be held from March 3-5 at the University of Minnesota.  Sophomore Michael Hunter, freshman Matt McGonigle, and juniors Tommy McGinn, Tyler Metz, Jack Boase, and senior Peter McCague are all advancing and the swimmers are either going in individual events or as a part of a relay.
Metz and McGinn both qualified in the 200 yard freestyle, after going times of 1:45.19 and 1:49.67, respectively.  Metz will also swim the 100 yard freestyle, after setting a Meet Record by going 47.38.  McGinn and freshman Matt McGonigle will both swim the 500 yard freestyle, after going times of 4:57.58 and 4:59.81, respectively.  The 200 yard freestyle relay, which will consist of Metz, Hunter, McCague, and McGinn, will swim after earning 3rd place at Section Finals with a time of 1:33.03.  The 400 yard freestyle, with McGinn, McGonigle, Boase, and Metz, will swim after reaching the State qualifying of 3:23.03.
Prelims of the State Class A Meet will be held on Friday, March 4, and Finals will be held on Saturday, March 5, with the top sixteen swimmers from each event advancing to either the Consolation or Championship Finals.  BSM, being a part of Class A, will swim at 12 noon both days, while the bigger schools in Class AA will swim at 6:00pm both days.