Falling into Fashion
As the temperatures drop, new wardrobe styles rise. Try on these cozy trends while carving pumpkins, exploring apple orchards, and warming up by bonfires this autumn.
Camouflage  
The irony of wearing camouflage to stand out and not "blend in" is prevalent in fall wardrobes. Between bold camo pants and dramatic tops, camouflage is making a presence not only among hunters but also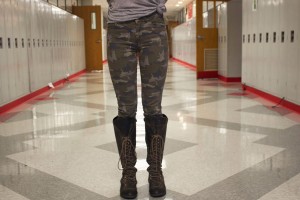 among fashionistas. Styling camouflaged outfits can range in several different looks; from elegant to hipster, casual to formal, or girly to boyish, camouflage can fit nearly any style or trend.
One of the best ways to perfectly execute the casual but chic trend is to pair a green pair of skinny camouflage jeans with an oversized solid sweater. Pairing the sweater with a thin metallic necklace will add substance to the top half, so there is no need to worry about under-accessorizing the outfit. The choice of jewelry paired with camouflage can also be a perfect way to let anyone's personality shine through.
When wearing camouflage on top, pick a fitted military-type jacket and pair it with either a fitted dress or skirt, or a pair of skinny jeans. This look is perfect for either a fun night out or a leisurely afternoon spending time with friends. Pairing the camo shirt with dark jeans and a simple necklace will make anyone stand out in a crowd.
Boots with Socks
Temperatures are just beginning to drop, which means it is time to pull out those boots from the closet. Not only are boots essential this season but socks of all colors and fringes to pair with them as well. This boots-with-socks trend has seems have been in style for a while now, thanks to its versatility.
Pairing the two, however, is not always a simple task. Tall rain boots with dark wool socks can work with casual outfits such as jeans and a sweater. With warm and soft fall dresses, ankle boots and lacy white socks create the perfect match. Adding a pair of socks under boots of any height also serves as both a toasty transition into winter and a stylish boost to any outfit. Boots can be worn with virtually any fall attire, and the simple addition of boot socks underneath has continued to thrive throughout many snowy seasons.
New Vests
Vests have made an appearance in fall fashion before, but many fashionistas believed it was a one-season trend. However, this fall's new and upgraded vests prove that they are still very much in style. Men and women are continuing to choose vests as the outdoor jacket of choice during the fresh fall months.
Knit and denim are some of the new vest styles of the season, and both match nearly any outfit. Knit vests function as either indoor or outdoor statements, and both styles look and feel comfortable and cozy especially when paired with boots. Denim vests look better when worn with a flannel shirt and ankle boots, which gives them an edgier 90's decade appearance. Even the classic solid colored vests have transformed into brighter and bolder colors this season. Firetruck red and hot pink vests never fail to add a pop of color to any neutral patterned outfit.