At the opening of hunting season, students follow passion for the sport
Adam Grazzini:
Beginning his hunting career at the age of five, junior Adam Grazzini is a seasoned hunter. Having been grown in a family of hunters, Grazzini often travels to hunting grounds in Minnesota and out of state. "I had my first BB gun when I was five years old, and I'd bring that out on the field with my dad and shoot at decoys. I got my first shotgun when I was nine years old. I shot mainly ducks at first, and I was eleven when I got my first deer," Grazzini said.
The junior is third in a series of a dynasty of hunters, preceded by his grandfather and his father. "My grandfather was the one who started hunting. He was 30 when he started and bought land in Wheaton, MN. [It was] a small town on the western side of Minnesota, and [my grandfather] built a house down there. He later bought another bigger plot of land, about 170 acres, which we use to hunt deer and pheasants," Grazzini said.
Through his extensive hunting experience, Grazzini had the opportunity to hunt a number of different animals including pheasants, ducks, deer, turkeys, squirrels, and other harvest animals. He furthered his hunting career in summer of 2012 when his family took a hunting trip to an area outside Johannesburg, South Africa, where Grazzini shot a black wildebeest, weighing in at more than four hundred pounds. "Since we're in Africa, we [ate] some of the meat when we're down there, and they then donate the rest to charity. We keep the skins to tan and taxidermy," Grazzini said.
To display their long family history of hunting, the Grazzini's set up a 1500-square-foot trophy room in their house that stores and exhibits a wide variety of taxidermy and memorabilia of what they have hunted over the years, which is about forty large game animals in total. "There is everything from a polar bear rug to a caribou shoulder mount to an eland pedestal mount, just to name a few," Grazzini said.
In addition to their esteemed trophy room, the Grazzinis sport an 85-foot-long indoor shooting range. "The idea started when we were thinking about what our new house would be like. My dad had all these ideas, but he knew for sure that he would have to have a trophy room. The idea of the shooting range came almost immediately after that," Grazzini said.
Having grown a strong passion for hunting, Grazzini strives to continue the family tradition for years to come. "I just like being out there spending time with my grandpa and my dad, and it's just really fun to conserve the ducks and keep the population down," Grazzini said.
Austin and Christian Bray:
After starting hunting at young age, juniors Austin and Christian Bray, the twin-brother duo, are hardcore hunters. "Christian and I have been hunting since we were about nine years old and started learning how to shoot about a year earlier," Austin said.
Truly passionate about the sport, the Bray brothers do not particularly have a favorite hunting ground, but rather see the experience as satisfying "[We] like to hunt wherever we can. These last couple of years we haven't had one particular [hunting site]," Austin said.
"
The fun part about that hunt was the fact that it was so challenging.
— Christian Bray
Even though the duo are flexible with picking locations, the 2012 trip to Africa with the Grazzini family turned out to be a memorable hunting experience. "My favorite place that I have been hunting has to be Africa. My favorite animal that I have hunted was the warthog that I shot while [traveling] in Africa. It took me three days and included one hastily missed shot from the back of a truck. I think the fun part about that hunt was the fact that it was so challenging," Christian said.
Requiring perseverance and concentration, the sport comes with various challenges, and the Bray brothers see them as one of their favorite parts about hunting. "In Africa we had to stalk the animal that we were hunting until we could get a good shot. That means staying upwind and saying as quiet as possible until you get within range, and even then you still have to make the shot which can be anywhere from 25 to 300 yards," Austin said.
Despite the excitement, there are certain downsides to hunting. "I would have to say that my least favorite part about hunting is having to clean the animals. It can be tedious and messy, and [it's] sometimes just downright disgusting," Austin said.
Hannah Drazan: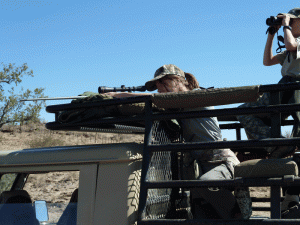 Hunting isn't only for the boys, though. This past summer, junior Hannah Drazan went on a trip to Namibia, Africa, where she hunted springbok, gemsbok, warthog, kudu, zebra, and wildebeest. "My favorite part about my trip was definitely the serenity that surrounded the entire ten days. I loved the entire process of hiking for hours while stalking a single animal and putting in all the hard work that's needed," Drazan said.
During the trip, Drazan and her family tried to be environmentally and morally conscious when hunting animals. "It's a very humbling thing to take an animals life, so to do so isn't something that my family takes lightly. We were very conscious to take only animals that were sick or weak, never the head of the pack. Everything about the circle of life is amazing, so nothing should be taken for granted when it comes to hunting. We leave nothing to waste in terms of meat or other usable parts of the animal; whatever we didn't use, we gave away or sold to other people in the community," Drazan said.
Experiencing her first year of hunting, Drazan saw the stalking process of animals as one of her favorite parts of the hunt. "To watch such incredible creatures out in the wilderness is really an incredible experience. It's peaceful and organized," Drazan said.
Leave a Comment