Cheerleading team begins season with new coach, new captain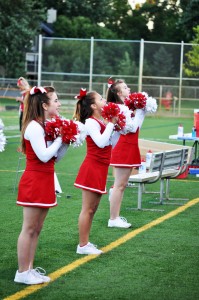 The 2013 football season brought the cheerleading squad back to the field ready to yell, flip, twist, and shake their pom- poms for a second year in a row. But this year, however, they have a refreshing spin on things due to a new coach, new captain, and new uniforms.
Coach Leah Fanning, was hired this summer for the upcoming season. She grew up in Rochester, Minnesota and participated on The Rochester Stars competitive cheerleading team from sixth grade to her graduation from high school.
Her cheer career continued throughout college and now with her new coaching job here at BSM, "So far it's been great. This is actually the best group of girls I've ever coached," Coach Fanning said.
The team also faced a change in student leadership. This year they gained a new captain with junior Zeph Kaffey. The process to choose a captain was grueling and difficult for Coach Fanning. All the girls interested in applying for captain this year filled out an application. From there, Coach Fanning chose who she thought would be fit to lead.
"I tried to pick someone who showed really good leadership skills and dedication and who also wanted to be there to learn, which is most of the girls. So this was really hard for me; I almost didn't pick a captain because I really didn't know who to go with," Coach Fanning said.
BSM Knight Errant, 2012
As a captain, Kaffey organizes team dinners, calls out cheers, and helps lead the other girls as they strive for success. Though it is Kaffey's first year on the team, she has competed in other cheerleading clubs growing up. The cheerleading team hopes Kaffey can improve the team as a whole this season.
The girls, this year, are seeking a new focus and mindset at practice. The team continues to strive to better themselves at each practice and game. "They are really respectful, hard working, and you can tell they really want to be here," Coach Fanning said.
The team has been working on new tricks, like the basket toss and tumbling, to show off at games. One of the goals they have is to get the fans more involved in cheers during the games. "I just hope that we can get the crowd and fans engaged in the game, because we are actually there to pump up the team," Kaffey said.
Coach Fanning wants the program to eventually reach a competitive level, up there with the schools like Edina and Eden Prairie. "If we get the right numbers, I think that is definitely an option, maybe even next year," Coach Fanning said.
The team will continue to recruit new members and develop the skills necessary to meet their goals of being a successful team in cheering on their classmates.
Leave a Comment