Bruce Willis returns to carry another "Die Hard" film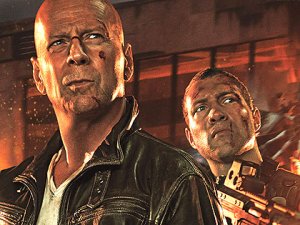 Six years after premiering "Live Free or Die Hard," the iconic hero Bruce Willis finally heads to Russia for another bold and staggering episode of the Die Hard series. With bits of humor and impressive chemistry between Bruce Willis and John Jai Courtney, "A Good Day to Die Hard" is definitely a must see for weekend entertainment.
In "A Good Day to Die Hard," John McClane (Willis) flies to Russia in search for his son John "Jack" McClane Jr. (Courtney), an undercover CIA operative trying to find the vault containing information about Russian officer Chagarin's (Sergei Kolesnikov) corruption. Chased by Chagrin's men, the father-son duo escapes and makes their way to Chernobyl. After finding the vault that actually contained massive amount of uranium, Jack and John attempt to stop Yuri Komanov (Sebastian Koch), a government official, from manipulating nuclear technology.
Directed by John Moore and written by Skip Woods, the newest film, like other memorable "Die Hard" pieces, collaborates Willis's daring motives with politics, humor, and of course unlimited firepower. The latest movie also complements previous installments and goes on to expose more of McClane's life and his relationship with John McClane Jr.
20th Century Fox
Returning as the indestructible McClane, Willis again displays outstanding stunts with his classy sarcasms and wacky charisma. Improving sound quality and visual effects from the previous film, "A Good Day to Die Hard" appropriately adds on to the series highlighting Willis's continuing Walk of Fame career.
In "A Good Day to Die Hard," Moore introduces John McClane Jr., who has never been featured during 25 years of the "Die Hard" franchise. As the younger McClane, Courtney created excellent chemistry with Willis when setting out a stiff yet encouraging and trustful relationship. Throughout the film, Courtney also performed over-average stunts and suitably accompanied Willis's return.
Despite great acting, the fifth "Die Hard" movie featured too much action, unnecessary gunfights, and explosions. Not only was it distracting and irritating, it took away necessary information about the Russian official Komanov and his daughter, Irina (Yuliya Snigir), and their plot of exploiting nuclear arms.
Overall, "A Good Day to Die Hard" proved thrilling and fulfilling for "Die Hard" fanatics and action-film lovers. Even with the McClane family miraculously united and the villains defeated, the film lays out suspense for another upcoming battle between unbreakable Willis and growing evil.