Sonora Grill
Three dedicated men from Sonora, Mexico combine influences from South America and Spain to create original dishes made completely from scratch at the Midtown Global Market's Sonora Grill. Among them, Chef Alejandro Castillo—who has over ten years of experience working at top restaurants throughout Minneapolis—carries out the true meaning of great Mexican food. Carmelos (tacos), eggplant fries, and crisp tortilla chips covered in freshly-made salsa or mole (chili pepper sauce) continue to be popular choices on their diverse menu. Sonora Grill attracts those looking for a step up from Chipotle with their extravagant food presentation, combination of influences, and overall exceptional taste.
A La Salsa
Voted "Best Latino" in the City Pages 2005, A La Salsa gives customers a tasteful Mexican experience with the freshest ingredients and a warm ambiance. Settled in the northwest corner of the Midtown Global Market, curious wanderers looking for a sit-down restaurant will be attracted to their quiet location and simple yet sophisticated atmosphere. Mixotes de pollo, a flavorful dish of chicken and cactus in a spicy chile sauce wrapped in a banana leaf, is one among many of the unique options. Award-winning chef and owner Lorenzo Arizria has successfully been developing original Mexican dishes into creative masterpieces for more than thirty years.
The Art Shoppe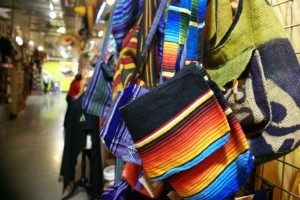 A collaboration of local artists and non-profits—A Minnesota Without Poverty, Jewish Community Relations Council, and Mount Olive Lutheran Church—came together to build a business celebrating creativity. Bursting with colors, the Art Shoppe pleases the eyes with their clay pots, portraits, ornate handcrafted jewelry, painted suit-ties, eco-friendly ornaments, and other inventive pieces. The Art Shoppe also invites visitors to witness the creative process, featuring monthly presentations of local artists constructing their pieces.
Jakeeno's Trattoria
The finest imported and locally grown ingredients are combined to create excellent pizzas and hoagies at Jakeeno's Trattoria. Chef Jeff transforms traditional meals with spices, sauces, and homemade cheeses. He continues his success from Jakeeno's Pizza and Pasta in Minneapolis, carrying over the same taste of his doughy pizzas and popular pastas to the market.
Café Finspang
From their Scandinavian delicacies such as peanut butter-filled truffles and classic lefse to unique sweaters from Iceland, Café Finspang gives the center of the Midtown Global Market a flavor of Scandinavia. The sweet shop intrigues not only the Scandinavian crowd but also world travellers and those with a sweet-tooth looking to experience Cafe Finspang's cultural creations.
The Produce Exchange
Customers seeking locally-grown and organic options at reasonable prices will be satisfied with the Produce Exchange, one of the most successful distributors of fresh produce in Minnesota. The vibrant colors of their fruits and vegetables are bound to attract all eyes and inspire visitors to cook up a garden-fresh meal that very evening.
Andy's Garage
Embracing the diner feel with their classic, tasty, and All-American food, Andy's Garage cooks up hand-made burgers with fresh local ingredients, original shakes and malts, and their "Deep Fried Awesomeness," like sweet potato fries and chicken tenders. Whether a customer wants to keep it safe or is craving an inventive handcrafted burger, Andy's Garage satisfies. Weekly specials are also offered, such as the "Rumble in the Jungle Burger," topped with lettuce, tomato, onions, sweet grilled pineapple, and teriyaki sauce.
Mapps Coffee and Tea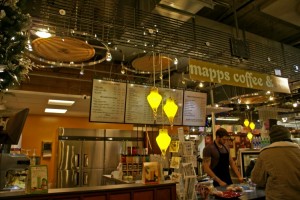 Appealing to experimental coffee and tea drinkers, Mapps Coffee and Tea brings blends from East Africa, Turkey, and other countries around the world. From cinnamon hot chocolate and raspberry mochas to coffee and apple cider, Mapps offers traditional coffee-shop options with a twist. Owners Yildiz and Erdoan Akguc opened up their second coffee shop after their success in Minneapolis. They also support artists in the community—in both locations, locally-made paintings and photographs add to the worldly atmosphere.