For the third straight year, the Benilde St.-Margaret's girls' hockey season ended at the hands of the Minnetonka Skippers in the section 6AA championship game. The Red Knights blew a 2-0 lead, giving up three goals in a four minute span to lose 3-2 at the Parade Ice Garden on Friday, Feb. 15.
The Red Knights jumped out to an early 1-0 lead at with 10:42 left in the first period as University of Minnesota commit, junior Kelly Pannek, got the puck in the neutral zone, drove wide around Minnetonka's defense, and her shot picked the top right corner. "I hadn't performed well in the section final the last two years, so it felt great to be able to capitalize on one of my chances," Pannek said.
Caitlin Reilly gave the Red Knights a 2-0 lead just 1:42 into the third period. Senior Liv Halvorson had taken a shot from the point when Reilly picked up the rebound and put the puck into the net, with a backhand shot past Skippers goalie Sydney Rossman.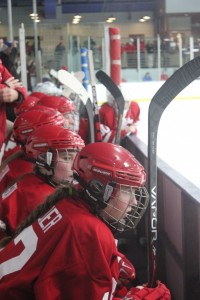 "After we got that goal, I think we all thought we were going to win, but I don't think we let up at all," Pannek said.
The Skippers brought the game to within one with 6:52 remaining in the third, after Minnetonka's Hannah Behounek knocked in a rebound during a scrum in front of the net.
Amy Peterson knotted the game up to make it 2-2 after there was another scrum in front of the net, and the puck was flipped up past Red Knight goalie Abbey Miller.
The third and final goal for the Skippers came on the powerplay after yet another Red Knight penalty to make it 3-2 with 2:50 remaining in the game.
Two of the Skippers three goals came on the powerplay after they weren't able to capitalize on the powerplay in the second period. "In a game like that, we have to be more disciplined. Especially down the stretch. They have five Division 1 players on their powerplay and if you give them that many opportunities, they will make you pay," Pannek said.