Boys' basketball looks for a season of rebuilding
As the boys' basketball team approaches another season, fans look forward to a whole group of new guys leading the varsity team. Coming into this year, the team lost twelve seniors, meaning it will be important for players to step forward and take initiative this season.
The varsity basketball team remains confident despite losing their starting five. "We look at it as a challenge. Every game we're gonna play with a chip on our shoulder because no one, but us thinks we can do it. We're just here to turn heads," senior captain Alex Alexander said.
Senior leadership will be important if the boys' want to achieve their goals this season.Even though people are skeptical about them, they believe they can do it. "We want to play to the best of our abilities and go as deep in the postseason as we can, and also since it is my senior year, I want to have as much fun as possible," senior Sam Hafermann said.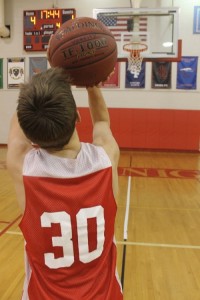 Although it is a rebuilding year for the boys basketball team, the Red Knights understand that team chemistry will be an important part of this season's success. "I feel like its gonna be a learning process for everyone at the beginning of the year, but I feel like once we get a few games in and get into the groove of everything and learn each other's strengths and tendencies, I think we will be perfectly fine," Alexander said.
"I don't think there will be individual players that will lead the team like last year, its more of a team effort," senior Chris Bell said.
Unlike last year, the team needs to learn to work together more, instead of focusing on individual talent. "It is going be weird not having [last year's seniors], it was a lot of fun playing behind them last year, but I am definitely looking forward to stepping into more of a playing/starting role on the team. it will definitely be a different experience and hopefully a fun one." Hafermann said.
The team is also taking a different approach at practice from the previous year. "We're going back and working more on fundamental drills this season," Mr. John Moore, head coach of the Boys Varsity team, said.
"
Every game we're gonna play with a chip on our shoulder because no one, but us thinks we can do it. We're just here to turn heads"
— Alex Alexander
A plus for the boys' team is that they have all played together before on last year's JV team. "It won't be a hard transition to varsity due to the year of experience with my returning teammates, but it will be exciting playing along side the new players this year" said junior Grant Hollie. The new players joining the basketball team this year includes sophomore Jayson Edwards, sophomore Luke Possis, and freshman Matt Lilienthal.
BSM Boys Basketball will be starting off the season ranked 6th in their conference. They are hoping to move up as the season continues, despite going through the rebuilding process. "The rebuilding process takes time. Its not going to be an overnight process, but with some patience and discipline all the pieces will fall together," Alex Alexander said.