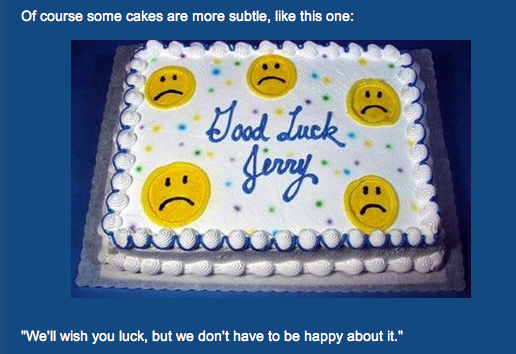 From Father's Day cakes that read, "Happy Falker Satherhood," to naked mohawk-baby carrot jockeys, to sensored pregnancy cakes, cakewrecks.com has seen it all. Everyday, this blog posts pictures, videos and stories of designer cakes gone wrong, begging the question, "What does it mean to be a professional cake decorator anymore?"
The cake that started it all was a beautifully decorated cake with frosting roses that had "Best wishes Suzanne, under neat that, we will miss you" written in black gel icing; it may have been the exact words of the customer, but not quite what they wanted. Cakewrecks.com features professional cakes with spelling errors, orders written out in frosting, like cakes that read, "I want sprinkles," unshapely cakes made of cupcakes, and cake decorations that resemble internal organs.
To balance out all of the terrible cakes, cakewrecks.com posts a themed set of pictures every Sunday of wonderfully designed and decorated cakes, that begs the question of whether the cakes are even edible. Whether looking for a good laugh or cake decorating inspiration, cakewrecks.com is a blog worth bookmarking.