Bright Rwagatare's life changing move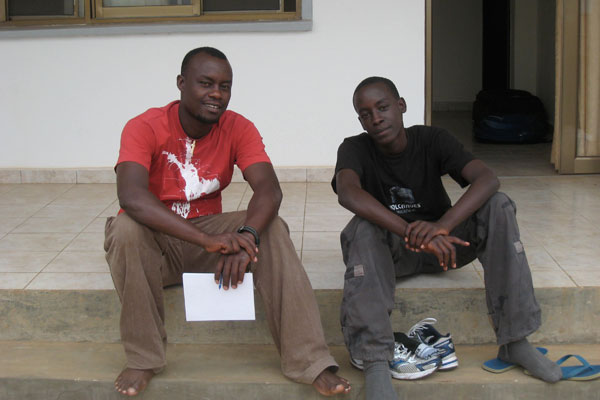 Life in Rwanda
Freshman Bright Rwagatare's life completely turned upside down after coming from a school where 60 children slept in one room, food was often cold and rarely tasted good, and teachers used severe discipline techniques to Benilde-St. Margaret's. Even bigger than the change in schools, though, is Bright's change in countries: from Rwanda to the United States.
Bright grew up in the Rwandan village of Ruhengeri, where he lived with his father, mother, and two younger sisters. "When I was young, I mostly stayed at home with my mom and helped her clean," said Bright Rwagatare.
That came to end when Bright was nine, after his mother passed away. "After my mom died, my dad sent me a boarding school in Uganda. He was working, so it was hard for him to take care of us," said Bright Rwagatare.
The 15-year-old enjoyed his experience at boarding school, despite the unfortunate circumstances surrounding his enrollment. "The food was really bad, but there were a lot of kids. That part was fun," said Bright Rwagatare.
A Life Changing Move
Bright stayed at the boarding school until he was taken in by the Cave family at the beginning of the 2010-2011 school year. "There are a lot more opportunities in America. The education standards are higher here," said Greg Rwagatare, Bright's father.
After a conversation between the Caves and Greg on the education Bright was receiving at his Ugandan boarding school, Bright was invited to live and study in America. "We were in Rwanda, visiting [Greg], and we just somehow got the idea in our heads that this could work out," said mother, Molly Cave.
The rest of the Cave family was similarly nonchalant about inviting a stranger to live in their home. "It wasn't a big deal for me. I mean, I already had two brothers. What's one more?" said sophomore Zoe Cave.
Officially making the decision to move Bright was not as easy of a process for his father as it was for the Caves. "It was hard. I came here and checked out the school. I wanted to see what kind of a place this was," said Greg Rwagatare.
After being informed of his impending move, Bright was more anxious than excited. "My dad only told me six months before I was supposed to leave. I was a little nervous because it was my first time coming [to the U.S.]," said Bright Rwagatare.
When it came time for Bright's arrival, the Caves did everything they could to make the him feel welcome. "In the first couple weeks, we had a lot of forced family fun, like going to see movies as a family or going to the cabin," said Zoe Cave.
While Bright seemed to fit in with the family well, there was one exception. "The biggest thing that threw me was Bright is a man of few words, and our family is really, very loud," said Molly Cave.
Dealing With Cultural Differences
Even though Bright got along well with the family, there were still some cultural differences that made things difficult for both parties. "The very first week Bright was here, he said to me, 'I didn't know there was a machine that washed dishes or one that washed clothes,'" said Molly Cave.
Just as Bright was surprised with American culture, the Caves found themselves surprised by some aspects of Rwandan culture as well. "One time when we were at a movie, Bright was telling me and Poppy about how in Rwanda, you have to pay to use public restrooms. We thought that was absolutely crazy," said Zoe Cave.
While some differences were in laws and machinery, others were in manners and customs. "We always have our kids talk to their teachers if they don't understand something, but Bright was bewildered by that idea. He said in Rwanda, you don't talk to your teachers because it's disrespectful and implies they aren't teaching well enough," said Molly Cave.
Some of the differences in American cultures have rubbed off on Bright. "He talks a lot more than he did back in Uganda. He also just has more friends than he did, and he interacts with them more than he interacted with his old friends," said Greg Rwagatare.
Even though obvious differences exist between the two cultures, Bright has learned to enjoy many aspects that make America unique. Thought there are some that still bother him. "It's fun when we go out to eat because we don't do that much in Rwanda. Also, it was really cool when it snowed the first time," he said, "But you [Americans] eat way too much."
Nonetheless, Bright is managing life in another country just fine, despite the culture gap. "Last year felt a little difficult, but I think I am now getting along fine. I'm getting used to living here," said Bright Rwagatare.