Don't spend your money on this one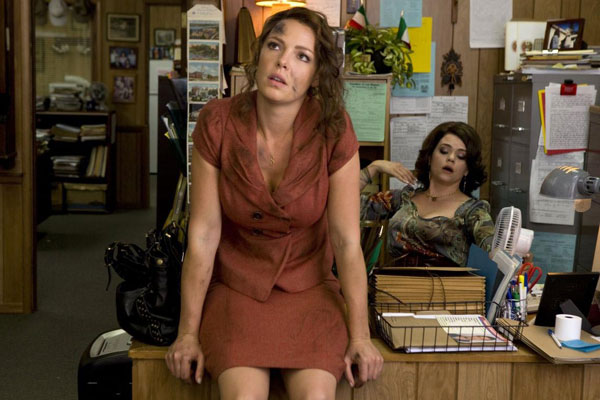 Based on the number one selling book series by Janet Evanovich, the film "One For the Money," produced by Katherine Heigl adequately follows the story line of the book, but falls flat in theaters, ultimately confusing audience members who aren't privy to the book's complex characters and plot twists.
After being fired from the lingerie department at the Newark Macy's, a desperate Stephanie Plum—played by Katherine Heigl—searches for a job at her sleazy cousin Vinny's bail bonds office. After hearing the news that local cop Joe Morelli ––played by Jason O'Mara––skipped out on bail after supposedly shooting a unarmed man, Stephanie jumps at the chance to bring him in, looking to simultaneously collect the $10,000 bond reward and seek revenge on Morelli, Stephanie's high school flame.
Enlisting the help of fellow bonds agent Ranger, played by Daniel Sunjata, Stephanie Plum hones her bounty hunter skills by purchasing her first gun, along with multiple trips to the shooting range. However she soon finds herself in the middle of a dangerous crime ring as she realizes that she's not the only one who wants to catch Morelli dead or alive.
The poorly casted film is left with Heigl and O' Mara, two actors incapable of bringing the beloved characters from the novel to life. Lacking the hard edge needed by a New Jersey bounty hunter, Heigl lacks believability especially with her forced New Jersey accent.
In contrast to the book, the movie lacks the allure of a mystery thriller as the clues seem to fall directly into Stephanie's lap with little investigation necessary. Without proper development of the characters, the plot moves too fast, and confuses the audience members as Stephanie chases after characters that the viewers have barely been introduced to.
Containing potentially fun supporting roles, such as the hilarious Stark Street harlot Lulu, played by Sheri Shepard, and the batty grandma of Stephanie Plum, played by Debbie Reynolds, the movie pays little attention to these characters and neglects to realize that, together, their talent and humor might have been enough to either save this movie or at least make it a little more tolerable.
Although the movie had plenty of great potential material from the Janet Evanovich novel, it came across as an aimless and clumsy interpretation that left viewers confused and unsatisfied.