Choir takes Gospel of Luke on the Road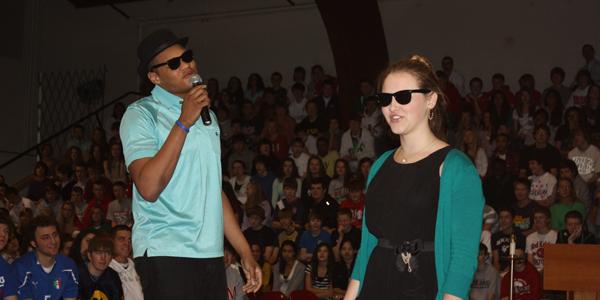 Well-known Bible stories come to life as members of BSM's concert and chamber choirs perform a collection of pieces known as "The Feast of Life," bringing parables from the Gospel of Luke to the stage. The participating actors and singers will bring their production to several schools in a traveling performance on April 19, sharing their talents and the gospel message with those outside the BSM community.
The first "Feast of Life" performance, which took place in 2001, was presented by BSM students under the direction of Mrs. Marilee Mahler, current director of the spring play, "High School Musical." "We worked with the writer, Martin Haugen, who created the songs and music for it. Marilee staged it for us, and the students were put on a DVD as an example for others who wanted to stage the show," said Mrs. Nancy Stockhaus, choir teacher.
This year, seniors Megan Collins and Shannon Cron relaunched the idea to perform "The Feast of Life" and became student directors for this fundraiser project. "This year Megan really wanted contributions from the performance to go to Nuestros Pequeños Hermanos. We raised $1,400 on March 25, so that was good for all the performers," said Mrs. Stockhaus.
Nuestros Pequeños Hermanos, an orphanage in Guatemala, has a close connection with BSM students, many of whom have traveled there for mission work within the past few years. "Shannon Cron and I went to NPH last summer, and we were really inspired and wanted to do something to make a difference for the kids we met. So we thought about doing some sort of benefit concert, to raise money for NPH and Feast seemed to be the perfect fit," said Collins.
Following the success of their March 25 performance, the singers and actors of "The Feast of Life" are taking their production on tour. The show will visit schools including Good Shepherd and Holy Name of Jesus to showcase some of BSM's most talented performers and to help recruit potential students for upcoming years. "We're visiting some feeder schools, and I think it's going to be good. It's been really fun, and the choir and seniors in it are great," said Rob Shaver, a senior performing in "The Feast of Life."
Because several of the performers involved in "The Feast of Life" didn't have much exposure to theater or acting, the construction of the show was a learning experience for many. "When Megan decided to start this project, there were about six seniors who had never been on a stage before in their lives. People had to learn how to sing solos, act, and put on a show. It was great bonding for the choir, and they were really impressive," said Mrs. Stockhaus.