B-ball stud stands out as a fashionisto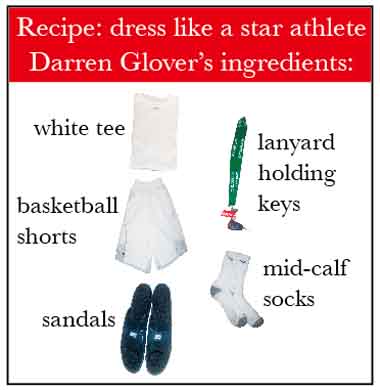 Most students would admit to envying senior Darren Glover's basketball skills; however, this year some of D-Glove's classmates have been seen envying something different–his fashion sense.
"I didn't expect to become an icon with the way that I dressed. I just wake up every morning and pick something nice to wear." A typical day's outfit consists of an ironed white tee, basketball shorts or dark sweatpants, mid-calf socks, and color-coordinating Jordans or Nikes. "When the spring time came about, I grew out of a lot of the t-shirts that I usually wore.
I had a lot of nice shorts and shoes that went well together, but I didn't have any t-shirts to match with them. So instead, I thought of just wearing the undershirt because white will go well with anything."
Glover completes the look with a key lanyard dangling around his neck and a phone clip attached to his pants. "When I would get out of my car, the first thing I would do is take my keys and just put them over my neck. Well, in school, I would forget that I had them around my neck, and then by the end of the day, I would realize I still had them on!"
Many students around school try to pull off this BSM superstar's signature look. D-Glove gives some advice to all the little people out there: "People need to stop tucking in normal t-shirts. You need a plain white tee, not a tall tee, but a normal white tee! (I would suggest Kirkland). If you have light colored shorts, the shoes should have that light color as the dominant color, and vice-versa."