Baseball begins the season by focusing on one game at a time
The BSM boys' baseball team is getting underway with their 2021 season. After not being able to play last year and losing in the state championship the year before, the boys are looking forward to having another great spring season playing with motivation to have another chance at winning state.
The boys had a good showing at tryouts, so they are looking to repeat the phenomenal season they had in 2019 where they made it all the way to the state championship. "There was a decent amount of kids that were at tryouts this year. This helps us with the skill/talent there will be throughout the team. Because we have a good number, we are able to pick from a broader number of kids. It also drives the competition up, making everything a lot more competitive knowing your spot could be taken by someone else," junior outfielder Brady Yakesh said.
As a team, they are setting some goals and dreams for themselves to achieve throughout their season. "Like every sports team, our overall goal is state, but right now we are focused on one game at a time," senior pitcher Myles Wahlquist said.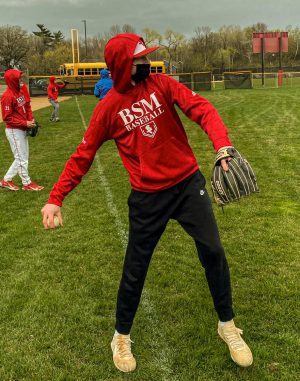 The BSM boys' baseball team has some key players returning from the past years that are hoping to make a big difference for the team. "Some of the key players for this upcoming season are Jonny Woodford [senior], Caideyn Ferrel [senior], Myles Wahlquist [senior], and Ben James [junior]. These players can really make a difference in the batting order in the power slots. These guys will be in the 3, 4, 5 positions in the order to drive in runs, but not only that, they make on difference on the field," Yakesh said.
With every season, there are certain teams that a team really wants to beat and the boys are preparing themselves to do just that. "A lot of the big teams will be in our conference, Chanhassen, Chaska, Bloomington Jefferson, and the one non-conference would be Edina. From my freshman year, I remember those teams being good and difficult to beat so it would be nice to run up the score on them," Yakesh said.
The team plays their next game on May 1 against Orono.