BSM Sports Captains Work Through a Suspended Season
Being a sports captain comes with many challenges: Keeping everyone in line, leading by example, communicating with the team and many other things that stay behind the scenes. But with all the uncertainties and delays that COVID-19 has brought to the sports that challenge is increased. 
One of the biggest differences that teams face is with a lack of team bonding time. Spending time with each other is crucial to a team's success, and with the four week pause and past delays, athletes are finding it harder to bond. Abby Hancock, a two year hockey captain, tries to make up for the lost time with virtual workouts and zoom meetings. "One of the biggest challenges I've faced during COVID is trying to keep in contact with the team, especially during this pause. We are doing things like virtual workouts and team zoom meetings but it has been difficult ever since rinks closed down for this pause," Hancock said. 
During this time it is also hard to keep a consistent schedule. The delays make it challenging to know when the season is going to start, or when the team is going to be able to practice. This can be  disappointing to the players and captains; it will be difficult for the captains to maintain positivity on their teams. "Our season should've started by now and the fact that it hasn't is frustrating… Obviously this year is going to be a weird one because of Covid, but with things opening up and shutting down every few weeks, it's been hard keeping a consistent schedule with the team," Hancock said.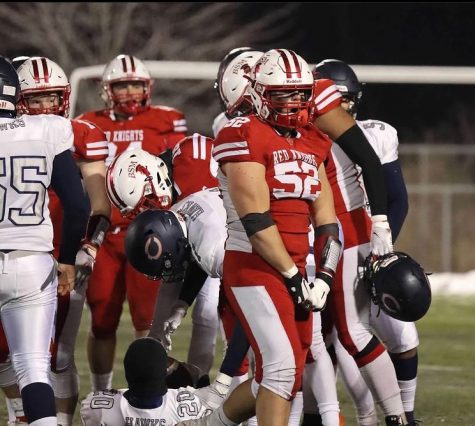 Nick Marinaro, a senior football captain, has found similar challenges with the scheduling and delays of his sport. When his season was postponedhe found it challenging to keep the whole team focused on the season. "When our season was postponed, it was difficult to keep the team together and keep everyone's sights set on the season. It was supposed to be in the spring before the MSHSL reversed their decision, and when we found out we would be playing again in two weeks, it was exciting, but a challenge to prepare," Marinaro said.
Although there's a lot to look down on and be frustrated about, Hancock is finding the light in the dark. She, along with her team, is more grateful. They now value every game, every practice and every chance they have to be together. Hancock feels that this will reflect in the team's performance  on the ice. "All the uncertainty is scary, yes. But I've been trying to make the most out of every day … I feel that not only I, but the rest of the team, has turned their uncertainty into gratefulness, I can see it on the ice. It might sound cliche, but we are truly playing every game like it's our last, because it very well could be," Hancock said.