Choir performs at annual spring concert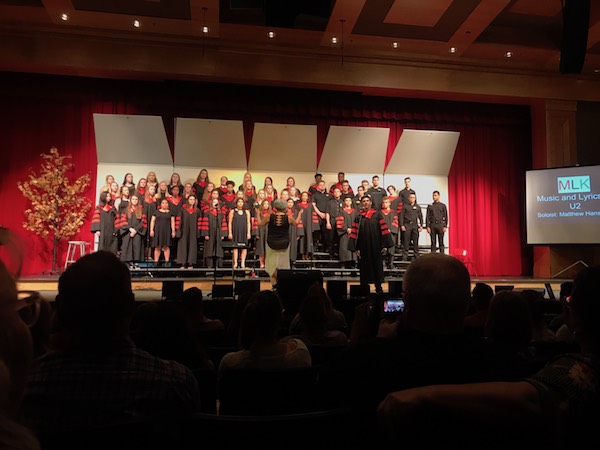 Each year, BSM hosts a spring choir, orchestra and band concert each year. This year, the spring choir concert was centered around the theme "Unity in Song" and took place on Wednesday, May 16. The theme allowed the songs to have a deeper message, aimed at change and remembrance.
The concert opened with BSM's acapella group known as the Red Knotes. The Red Knotes are made up of sophomores, juniors and seniors who practice weekly before school. "Throughout the year, we have all grown closer together and bonded over Red Knotes," senior and Red Knote Ava Smithmier said.
Following this performance were several combinations of students from across grades. The most memorable one, however, was the Boy's Pop Band, who sang "I Want It That Way" by the Backstreet Boys. This performance had the crowd on their feet, clapping and singing along throughout the majority of the song. "The performance was my favorite of the night" senior Braeden Fitzgerald said.
Then, there were several large group songs featuring solos by various students. One of these solos was senior Maddie Schafer's "I've Been in The Storm," which represented a metaphor for the hardships slaves faced throughout history. Soon after this junior Marley Ballinger, senior Angel Strangis and sophomore Julia Hoover were featured in the song "Come to The Table."
"
Throughout the year, we have all grown closer together and bonded over Red Knotes."
— Ava Smithmier
The final performance of the evening was "You Will Be Found," a song from the musical Dear Evan Hansen. This performance was a conglomerate of students from all grades and featured solos from seniors Ava Smithmier, Noah Bridges, Caroline Monchamp, Leif Anderson, and Brielle Baker. This song spoke about the meaning of friendship and how it can help someone get through challenging times.