Retired teacher returns as long-term substitute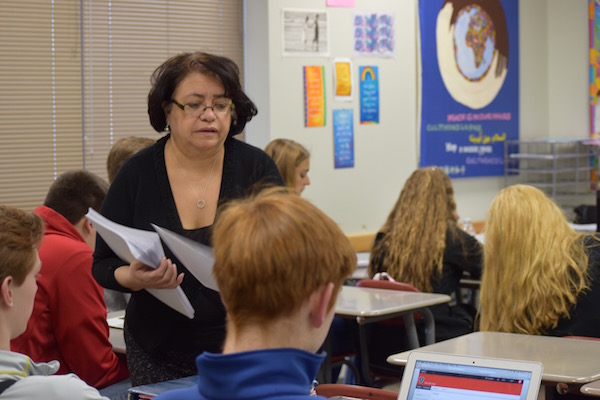 Former senior high Spanish teacher Mrs. Alicia LaPorta-Orange has returned to BSM as a long-term substitute. With senior high Spanish teacher Mrs. Rachel Hubly on maternity leave, LaPorta-Orange expects to stay at BSM until the end of the year.
LaPorta-Orange grew up in Peru and Uruguay, though she came to the United States in 1979 to study at Bemidji State University and the University of Minnesota, with a scholarship from the Mcknight Foundation. She chose to study to become a teacher in the U.S. because that's what her parents did. "I come from a long line of teachers and I taught Sunday school, so I decided to become a teacher," LaPorta-Orange said.
After getting her degree, LaPorta-Orange's first job was teaching at BSM. Here, LaPorta-Orange taught for thirty years until she retired in 2011. She also helped shape the Spanish curriculum and watched BSM evolve throughout the decades, which is a reason for choosing her as a substitute for Hubly. "She knows the system [and] our mission. She also understands the Catholic identity piece and what it is to be at a Catholic high school," senior high Spanish teacher and chair of the World Language Department Mrs. Mary Murray said.
LaPorta-Orange chose to be a substitute teacher because she enjoyed teaching at BSM and wanted to come back. She also likes teaching because she enjoys educating young students. "Working with the young people keeps you young," LaPorta-Orange said.