Boys' Hockey looks to senior leadership for success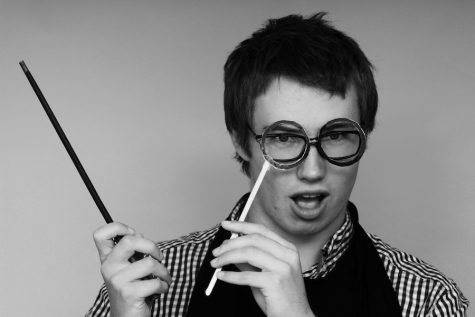 More stories from Tommy McGinn
The 2014-15 BSM Boys' Hockey team will look to its core group of experienced players and coaches to reach their ultimate goal of winning the state championship. Fortunately, the boys' hockey team has not lost too many seniors and thus possesses a lot of returning talent.
"We didn't lose a lot of players, number wise," senior captain Ben Newhouse said. "We're hoping that players from last year's team that didn't have as big of a role are able to replace some of the losses we've had."
The team certainly does not lack leadership as Newhouse joins senior captains Mark Kaske and Chase Jungels in developing team chemistry to power the success of the team during the season. "I think the biggest thing [we can do as captains] is continuing to keep everyone positive and keep everyone really close together. If everyone is on the same page, I think we can be really successful," Newhouse said.
The captains also promise that the team bonds even outside of hockey practices and games. "We hang out seventh and eighth hour, on the weekdays, [and] play fall and winter hockey together. We just want to build and grow as a team together," Kaske said.
While the captains will play a big role in leading the team, the rest of the players will dedicate enormous time into refining their skills both individually and collectively as a team. "During the season, we practice every day and are trying to get a team workout for the season, so we can work out twice a week together [off-ice]," Kaske said.
Led by head coach Ken Pauly, the experienced staff knows how to get the most out of their players and lead this team to the top of the state. "[Coach] Riddle always brings energy and gets us all going. Coach Russo is more calm and collected and keeps our defense up to par, and [Coach] Pauly strings everything together by making sure everyone's in line to follow systems and win games," Kaske said.
Even with a large pool of veteran players and coaches, BSM will face many schools that will try to impede Red Knights' trip to the Xcel. With a schedule that entails playing tough games with teams like Eden Prairie and St. Thomas as well as Wayzata and Hill Murray, the boys' hockey team will need every man on the roster to contribute.
"I personally think that our non-conference schedule is going to be one of the toughest we've had since I've been at BSM. Overall, if we compete at the level we can, I strongly believe we can be one of the best teams in the state," Newhouse said.
Having two trips to the Section Championship games in each of their past two years and clinching the 2012 Class AA State Championship, it is not surprising that the team wants to be at the top as they were three years ago. "[We want to] win our tournament, win our Conference, win our Section," Newhouse said.