Alpine ski team posts impressive results at meets on consecutive days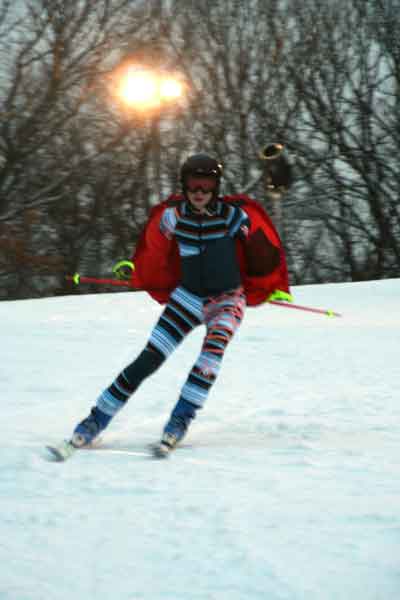 After a long Christmas break that produced a steady diet of snow, the BSM Alpine ski team has impressed in two meets on consecutive days during this first week of 2017.  The team went into Christmas break having just finished in the top 20 at the Wild Mountain Invite on Friday, December 23, where the boys' team got 16th Place and the girls' team earned 18th Place, in their first meet of the season.
On Tuesday, January 3, the boys' team took home 2nd Place, while the girls' team got 1st Place, at the Metro West Conference Meet at Buck Hill Ski Resort in Burnsville.  The top performers for the boys were freshman Davis Fortney (52.27), followed by seniors Ryan Tucker (54.59), Chris Jones (55.75), and Cole Carlston (55.84).  For the girls, freshman standout Abigail Swanson (53.82) led the way, while junior Lauren Copland (64.46) and sophomore Amelia Backes (64.72) rounded out the top three for the Red Knights.  "We have some solid rising talent on our team including Thomas Forby, Willy Grieger, and Jack Klassen," senior Matthew Tucker said.
The very next day, on Wednesday, January 4, BSM returned to Buck Hill for the Tri-Metro Meet.  Being familiar with the nuances of how to succeed on the track, BSM was able to gain an advantage that helped them to a 2nd Place finish for the boys' team and a 5th Place finish for the girls' team.  "I thought we have performed pretty well [on Wednesday], we placed above Blake who is typically a very good ski team.  A lot of our top skiers have performed very well so that helps a lot," senior Peter Christenson said.
In terms of the Red Knights going forward this season, the varsity team is scheduled to have six more meets this season, all in the month of January, before partaking in the Section 5 Meet on Thursday, February 9, at Afton Alps Recreation Area in Hastings.  The team is hoping to send at least a few skiers to the State Meet, which is slated for Wednesday, February 15, at Giants Ridge Recreation Area in Biwabik.