BSM's Day of Giving Remains Virtual in 2021
If there's one event to know about regarding BSM fundraising, it's the Day of Giving. Every May, BSM puts on the Day of Giving event. The goal of the event is to bring together anyone and everyone with a connection to the BSM community in the hopes of financially supporting BSM. 
Although on the surface it may not seem like it, the Day of Giving is more than just a fundraiser. "It is a terrific demonstration of community support… Alums are coming together, grandparents are coming together, parents of students who graduated a long time ago are coming together… it's just a wonderful opportunity to watch hundreds of people shout out for BSM," Chief Advancement Officer and BSM alum Ms. Lisa Shaughnessy said.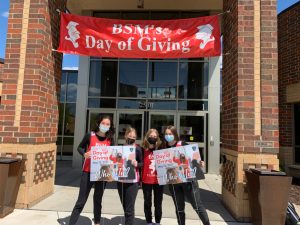 Last year, the Day of Giving plans were abruptly interrupted, forcing a quick transition to a virtual platform amidst everything else going on due to the pandemic. So what exactly will the Day of giving look like this year? Similar to last year, the Day of Giving will again be centered around a virtual platform."The technology has gotten even better [since last year], so we're utilizing more tools, and we hope to have broader social channel reach through some fun imaging and branding…but the biggest difference is more people, more support; it just keeps growing every year," Shaughnessy said. 
This year's fundraising goal is $350,000, which is about $50,000 higher than last year's fundraising goal. The goal was based on data, which acknowledges everything that people are going through right now without being too presumptuous. "We try to make sure that all gifts, no matter how people want to execute the gift…through check, calling us on the phone, a pledge of stock or from a charitable fund…we take all those payment types, plug them in to the virtual platform, so that it is truly a picture of all the ways our community is coming together," Shaughnessy said. 
The Day of Giving is one of four BSM fundraising events throughout the year, but the money raised from the Day of Giving event is especially critical to the success of the school. Even after tuition, BSM relies on generous donors––current parents and grandparents as well as past BSM families and alumni––to fund an additional $2,000 for every BSM student's needs. "The money that we raise from Day of Giving is essential to the school––these are not nice to have dollars," Shaughnessy said. 
The Day of Giving has been highly anticipated and planned out since January. Learning the virtual platform has been important not only in making sure that the Day of Giving is possible, but also so that it still feels like personal outreach and an impactful event, even through a computer screen. "Use of technology is a big deal for us because it allows us to reach people in a way that makes it easy for them to give and also generates excitement about the community coming together. We also work really hard to not be overly solicitous, so if somebody has already made a gift for the year, they may hear about Day of Giving, but not too much," Shaughnessy said. 
"
I think it's just a beautiful way to demonstrate all the people who are behind our students."
— Lisa Shaughnessy
The Day of Giving shows what the BSM community really means and is a testament to the strength within the community itself. "I think what's really neat is this tradition at BSM, that we stand on the shoulders of our alums…they don't know you, but they want to help you and they're rooting for you…so I think it's just a beautiful way to demonstrate all the people who are behind our students," Shaughnessy said.