"The Bachelorette" is still a great show, 17 Bachelorettes later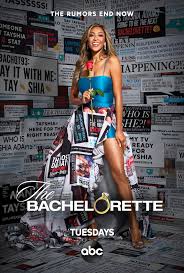 The Bachelor/Bachelorette franchise is nineteen years old. There have been twenty-four bachelors and seventeen bachelorettes.The last season of the Bachelorette was different though. It started off with Clare Crawley, who has been on the Bachelor and many seasons of Bachelor in Paradise. Things changed halfway through, when they brought in Tayshia Adams, who was on Colton's season of the Bachelor and Bachelor in Paradise.
Crawley found love almost immediately with Dale Moss, she even said after he first came out of the limo that she thinks she just met her husband. She ended up cutting her own season short after deciding that Dale was the one. She left behind 16 guys, but this wasn't the end for them: producers brought in Tayshia to give these men another chance at love. 
Tayshia came in with an open mind and an open heart, and from the beginning she told the men that she was taking this very seriously. She was nervous at first, as all previous contestants have been, but they tried to make it as normal as possible. Chris Harrison, the host, was going to do everything he could to give her the full experience. They brought in four new men to really give her the full night one experience and he even decided not to send anyone home on night one.
When it came to the final four, Ben Smith, Zac Clark, Ivan Hall, and Brendan Morais, she was falling in love with all of them. They all had their hometowns, where they went on dates and Tayshia met their families. Eventually Brendan and Ivan got sent home and it was down to two (but only after Ben got sent home and later returned). Ben and Zac met Tayshia's family and all went well. All Tayshia had to do was follow her heart. 
She sent Ben home without giving him the chance to propose and is now engaged to Zac. They are living together, but Bachelor Nation was generally upset. Not with the outcome, as Zac was a fan favorite, but they were upset that there was never an After the Final Rose. This is where we get to see how the couple is doing after they leave the show. Based on their interview on Good Morning America, they are doing well and even living together. 
Now we are on to the Bachelor. Matt James is a fresh face, never before on any Bachelor franchise show. His best friend Tyler Cameron was a fan favorite from Hannah Brown's season, which is where Matt got his popularity. Episode one of Matt's season aired on the fourth of January, so I won't give any spoilers but it's definitely going to be a good season.