BSM sports ten boys' basketball teams this season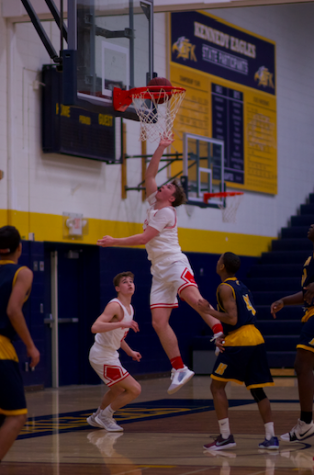 This year, BSM has had the unusual opportunity to coach ten boys basketball teams. The four junior high, three ninth and one tenth grade team combined with junior varsity and varsity makes for long practice hours and a difficult time giving everyone an equal amount of time on the court.
Although ten full teams seem like a lot to deal with, a normal year would include nine teams. This year, there was an increased amount of freshman who tried out. "We've had a really good uptake in basketball numbers the last couple of years. This year we had 43 freshmen try out. For us, being a small school we would hate to cut a kid in their first sport as a Red Knight," Mr. Bill Cheney, the head coach of the ninth grade red team and the assistant coach for both JV and varsity, said.
The challenge to make sure every player gets a fair amount of practice hours and individual time to be coached has been a maintainable issue, but there are conflicts that can require creative planning such as utilizing space at the Crystal Community Center and Groves Academy. "It's not just the ten teams that are juggling practice time, you also have to think about the girls' basketball teams and the dance team. We also do a lot of group practices together and we have to rent out other gyms and spaces," Cheney said.
The coaching staff has been flexible with the limited amount of time by giving varsity players an opportunity to get practice hours in during the school day. "This year we have tried to work with basketball hour. All varsity players have 8th period free so we are able to start practice at about 2:15 so that we can get done a little bit earlier to open up the gym time for other teams," Cheney said.
Gameday also looks interesting with ten different teams. "On game days I'll coach ninth graders at 4:15, JV at 5:30, and I'll be on the bench with varsity at 7, so it's fun to be able to coach three games in a day. I know if I lose the first one I can try to have a better attitude by the 2nd or 3rd game," Cheney said.
"
For us, being a small school we would hate to cut a kid in their first sport as a Red Knight"
— Bill Cheney
Even though managing a large number of players can be difficult, there are benefits and a lot of strong relationships that are formed in the process. "I like to be able to coach a lot of teams because I'm able to spend time with a lot of kids. I get to see some of the kids that I used to have who are grown up and playing at a higher level because it's fun to see the progress as they work up from 9th grade all the way to varsity," Cheney said.
What some people see as a downside, the coach views it as a lovely problem to have. "I joke all the time that I would rather have too many kids than not enough, especially at a school like this where we have so many athletes who specialize nowadays. It is really fun to still have basketball be one of those sports that you can still do for fun," Cheney said.