It's never too early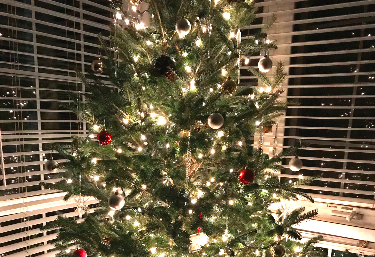 To preface this, I am currently listening to Christmas music as I write this. If I'm being completely honest, I'm not even really sure why this is an opinion piece because the supreme opinion is clearly that it's never too early for Christmas music. Now for all of you Thanksgiving lovers, don't worry––just because people listen to Christmas music doesn't mean we don't like turkey day. 
There's something about Christmas music that just makes people happy. You could turn on "All I Want For Christmas" by Mariah Carey anytime of the year, and I will get up and sing it at the top of my lungs. Every genre of music has a mood that goes along with it. Christmas music has an undeniably merry and peppy vibe to it. I believe that if listening to Christmas music makes you joyful and puts you into a good mood, why wouldn't you listen to it all year round?
As soon as spooky season is officially over, the day after Halloween—when all of the scary decorations are retired until the next year—I start getting into Christmas mode. And though that is the official start date of my playing Christmas music 24/7, there's absolutely nothing wrong with blasting "Santa Tell Me" by Ariana Grande on the Fourth of July. 
If I had to list my top favorite Christmas songs it would be as follows: "Santa Tell Me" by Ariana Grande, literally any of the songs from Justin Bieber's "Under the Mistletoe" album, "Underneath the Tree" by Kelly Clarkson, and, you guessed it, "All I want for Christmas" by Mariah Carey. 
When I listen to Christmas music, I'm in my happy place. It is impossible for me to not belt the lyrics with a huge smile on my face when a carol comes on. Car rides to school with my little sister have been nothing short of perfect as we dedicate our drive time to creating synchronized dances to every Christmas song we play.
"
It is impossible for me to not belt the lyrics with a huge smile on my face when a carol comes on."
— Alexa Field
It's comforting and nostalgic to sit down with a cup of hot cocoa and listen to Christmas music. Ever since I was little, I looked forward to the day when I would come home to my mom playing Christmas carols and decorating the house with pine and lights, and nothing has changed. 
I honestly recommend listening to Christmas carols on days when you're not feeling too spiffy—no matter the season—it always puts me in a good mood. So before you try and roast me for my music choices throughout all four seasons, just think about how great it would be to feel the Christmas spirit at any time of year. For now, however, Christmas is only a few days away, so grab a cup of cocoa, turn on those Christmas carols, and enjoy the holiday spirit.