Eighth grader Carter Booth dominated on the varsity volleyball court this past season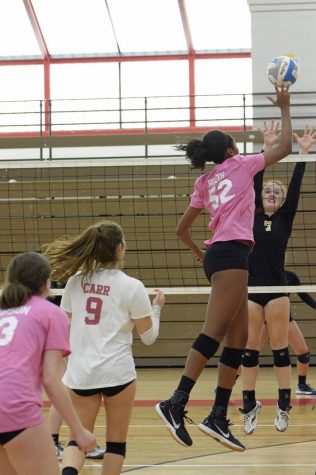 On most varsity sports teams, it's unusual for an eighth grader to be on the roster––let alone start most games. For new eighth grader Carter Booth, however, the varsity team environment is not uncommon. The 6'7 thirteen-year-old was the new starting middle hitter for the BSM varsity volleyball team this past season, and she hopes to bring success to the Red Knights for the next five years.
Booth started playing volleyball when she was only in second grade and has been dominating the game ever since. She's been playing at M1 volleyball club since she was that young and plays up an age group. Although she is a new student to BSM, Booth was previously on varsity at Breck High School her seventh grade year.
With a very strong coaching staff leading the program, Booth's goals aren't hard to reach. "I feel like becoming State Champions is a goal, but the bigger picture is doing well and becoming better," Booth said.
Varsity volleyball head coach Phong Luong has greatly impacted Booth's volleyball game, not just in skill but also in her mentality about the game. "[Phong] is a tough coach and that's made me a tougher player. I've been able to withstand more," Booth said.
As young as she is, college volleyball is in the back of her head. Multiple Division 1 NCAA schools have contacted Booth, including the University of Minnesota, whose team is ranked third in the nation right now. Some of the others include Penn State University, UCLA, and University of Michigan.
As her time here at BSM continues, her personal goal as a volleyball player stays the same as it's been––to become the best player that she can be and continuously improve. "[I want] to be better than I was when I started, which has always kind of been my goal [as a player]," Booth said.
The team finished this year off with a 26-4 record.