BSM received new laptops for the 2017-18 school year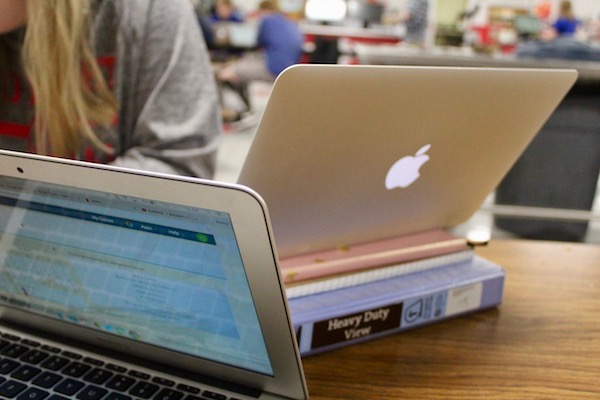 Hang on for a minute...we're trying to find some more stories you might like.
Last spring, Help Desk Manager Bill Cheney and the rest of the technology department went in front of the board to present their proposal for new laptops.  It was a success, and BSM was fortunate enough to receive new laptops for the 2017-2018 school year.
This year, the technology department outfitted the school with new MacBook Airs.  BSM updates the student laptops every 2-3 years to make sure technology is keeping up with the curriculum, as with everyday use, the laptops begin to wear down. "Battery quality, wear-and-tear, and regular usage led us to the point where we were ready to refresh and start new," Cheney said.
The biggest addition of this year's laptops include updating through a cloud server, which means the tech department has wireless access to manage the programs on each student's laptop. This also means students won't have to turn in their laptops over summer break, then set them up again once school begins; that's all handled by the technology department.  "We really geared this laptop to make sure the everyday tasks every student runs into and make it a little easier for them," Cheney said.  
While some think the tech department quickly scans over Apple's laptops then chooses the newest model, they actually dedicate a good amount of their time to researching the best hardware.  Last year, the tech department looked into multiple different laptops and tablets before presenting their findings to administration; together the two different departments worked to decide on the best choice for our school.
"
There's a lot of awesome curriculum that our teachers have built that work really well with our laptops, and there's a lot of things we'd lose the ability to do by switching to tablets."
— Bill Cheney
In Cheney's estimation, the result had to reflect a balance of financial responsibility without sacrificing performance. The decision to continue with laptops, versus switching to a tablet, was based off the compatibility between the curriculum and the possibilities of each device.  "There's a lot of awesome curriculum that our teachers have built that work really well with our laptops, and there's a lot of things we'd lose the ability to do by switching to tablets," Cheney said
BSM sold about 515 laptops to family, alumni, teachers and difference coaches of BSM; the other 750 went to a third party company.  "The company we sold them to typically finds buyers in the education market," Cheney said, explaining that this third party company cleans up the laptops that are still in working condition before selling them to a different school.
It's tough to know what technology will be available in the future for BSM; however, the current laptops are expected to remain for the next two or three years.  Cheney expects to see a two-in-one device for the future. "I think the Microsoft Surface, as much as I hate to admit, as a critic of Microsoft, is a good step in the right direction because it's a full laptop that runs the same software, but is also a touch-screen tablet.  I think, for Apple, it's just a matter of time until they find some medium," Cheney said.
When there are so many students that use this hardware, the probability of damage increases.  As most people come to Bill with their problems, one can only imagine how many different excuses Cheney has heard throughout the years.  While many blame their siblings, parents, or pets, Cheney vividly remembers the most ridiculous excuse.  "I did have one student blame it on their maid cleaning their private jet.  So that's probably my best excuse for all time," Cheney said.