Student Council plans and carries out events for the student body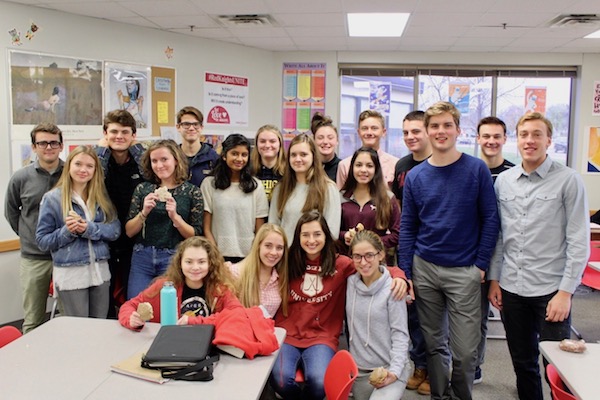 "Don't be hesitant, vote for ME as your president." Throughout student council elections, common phrases like these can be found posted around the halls of BSM. Although student council is a basic extracurricular activity found at virtually every high school, it remains a mystery for most students what this elected group of kids tasks are.
The BSM student council mainly plans school activities for the school's student body. BSM's student council consists of an executive board and class boards, who are elected by the student body. "Executive board deals with the entire high school, and class boards deal with just their independent class. Executive board deals with more general planning like dress up days, etc. Class boards deal with events or specific events or assemblies the grade is going to participate in. For example, the freshmen class will help plan the Freshtival, but overall there is not too big of a difference," junior student council member Jane Hoyt said.
Hoyt is a first year student council member. Her position is slightly different from the rest, in being elected into the role of Commissioner of Publicity. Every month, Hoyt spends extra hours at school, with her Expo marker in hand, beautifying and adorning the white board with Special events days, senior's birthdays, and holidays. This is a perfect example of the unrecognized work of student council because although so many people gaze at this board while waiting for lunch, many have no idea who made it. "One of the main things I do is I make the monthly calendar in the commons. I also get things approved by Ms. Anderson, such as signs and posters for student council," Hoyt said.
The highest position in both executive and class boards is the president. "Presidents run all the meetings, designate roles to positions, and lead. We had to plan pepfest a lot," Executive President Quinn Ehlen said. 
Some other positions include vice President, Secretaries, and Treasurers for both the class and executive boards. "My job is to help organize and set up events that concern the sophomore class. Some things I do would be getting volunteers for Pepfests, or other events like that or helping to decorate the building," sophomore class Vice President Tommy Beutz said.
If a person becomes a member of Student Council, it is necessary that they attend their weekly morning meetings and also join together after first period in homeroom. "[Typical Student Council meetings] are usually in the mornings around 7:15-7:20 A.M. The President leads them, and he just gives a good run down of what we need to do as a student council, whether that is to plan for spirit day or Homecoming, mass, or any assemblies, or coordinating," Hoyt said.
Student council meets in Room 149 for homeroom as well. "During homeroom, a lot of times it is just like normal. Sometimes we have things to do and matters to discuss and we get donuts a lot and bring in treats for everyone's birthday," Ehlen said.