Schafer shines on stage and in the choir
Senior Maddie Schafer is known for her extraordinary talent in the arts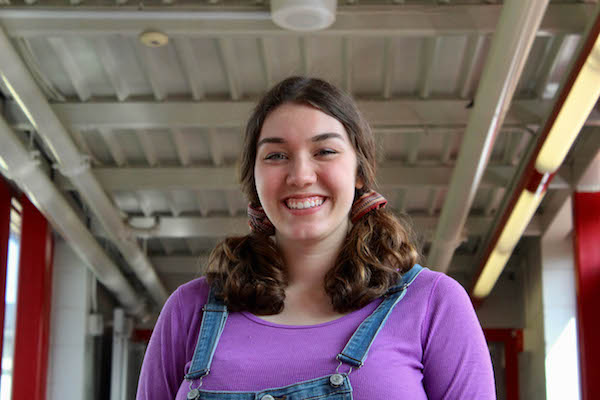 Even if you don't know who Maddie Schafer personally, you might have already seen her belting hymns every month at the BSM Masses.
A self proclaimed "theater nerd," Schafer has been participating in theater for over a decade. "If you don't include kindergarten nativity… my first play was in first grade. It's probably been about 11 years or so," Schafer said. She's had a passion for singing and theater ever since a young age.
She hasn't only been involved in theater as an actress——Maddie has also worked as a dance captain and student director for some of the junior high plays here at BSM. "I've basically done every single show here that I could," Schafer said. She's been a part of BSM shows when she was in junior high, and in high school. Some of these shows include The Drowsy Chaperone, The Addams Family, and most recently, last year's spring show: Wonderland: Alice's Rock and Roll Adventure, in which she starred as Felicity, who Schafer describes as "a rose with a valley girl accent".
"I've been into show biz basically since birth," Schafer said. Her mom is a singer, and growing up around musical theater has encouraged her love of fine arts. Additionally, she was required to participate in theater by her elementary school.
Recently, she has begun something called "triple threat training." A triple threat is someone who can sing, dance, and act with some level of proficiency. Maddie says she's not sure if she can officially be considered a triple threat yet, but she's working extremely hard. She participates in a triple threat competition for Spotlight regularly. Spotlight Education is a Hennepin County theatre program that honors high school theater students, and advocates for the importance of high school musical and theater education. She aims to keep auditioning and practicing until she can officially call herself a triple threat.
Like many high school seniors, Schafer is still unsure about what she plans to do for college.  "I'm still trying to decide if I want to focus on music or theater," Schafer said. Schafer plans to continue participating in shows and musicals all throughout college. "I know that music is going to continue to be a big part of my life," Schafer said.
"
Keep your head up high, don't lose hope. If one audition doesn't go well, there's always the next one."
— Maddie Schafer
Passionate about getting others involved in theater, Schafer has advice for anyone involved in shows, especially those who are new. She says the best way to pursue theater is to simply get involved. "Keep your head up high, don't lose hope. If one audition doesn't go well, there's always the next one," Schafer said.
To see Schafer in the spotlight, you can catch her in the fall show, Antigone in Munich, starring as Luisa.