Junior Drew Check performs as drummer in band Freezing Beaches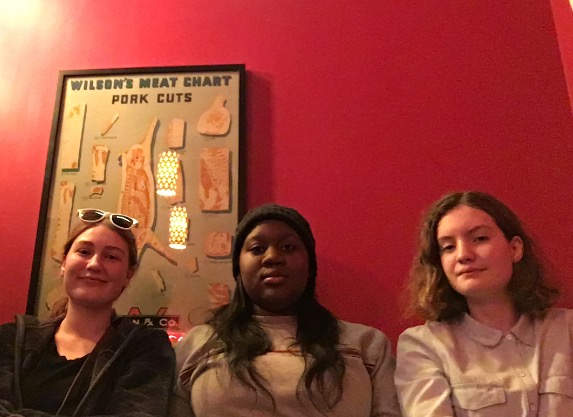 Everyone has a passion and wants to make it meaningful. Whether it be achieving that 4.0 GPA, or becoming Ms. Soccer or Mr. Hockey, everyone works hard to make their dream come true. For junior Drew Check, her passion for music has been turned into a reality.
Check created her band about a year ago with a couple of friends, "We all liked music, and going to shows, and we wanted to be a part of that community," junior Drew Check said. The band, Freezing Beaches, has a softer alternative sound with three people in the band: Hanna Doughetry, the lead singer and guitarist, Maryam Ikuforiji, the bassist, and Check, the drummer. Dougherty attends Perpich Center for Arts, and Ikuforiji attends Maranatha Christian Academy.
"
We all liked music, and going to shows, and we wanted to be a part of that community.
— Drew Check
The name of the band, Freezing Beaches, was inspired by the lyrics in a song by Vampire Weekend. "It's from the song 'Hannah Hunt', because we all like [the band] Vampire Weekend," Check said. Along with Vampire Weekend, the band admires groups Walk the Moon and Two Door Cinema Club.
Originally going to be the guitarist, Check became the drummer when the band was in need of one. The band typically rehearses every week at Check's house but recently increased their practices due to the band's first show. "Lately, since we have a show coming up, we've been trying to rehearse as much as we can," Check said.
Because the group is still working on their first EP, the band originally struggled to find somewhere to play, because most venues require a recording. The group was in luck when they discovered The Depot, which doesn't require a song sent in. "Originally when we were booking our gig we had a few different places in mind, but since we were behind in our plans for recording the EP, we didn't have a lot of links to send them and therefore couldn't play there," Check said. Freezing Beaches has its first gig on November 11, 2016 at The Depot in Hopkins.
Besides rehearsing for their first gig, Freezing Beaches is also working on releasing an EP and building their future. "Our future plans are definitely working on putting out our first EP right now and are in the process of recording. Next year we'll probably be working on another EP or at least put out a few new songs throughout the year. Until then, we'll try to play a few more shows every once in awhile and build our following," Check said.
In the long term, the band hopes to continue recording and writing music, as well as playing more gigs. "Our dream would definitely be playing the Mainroom of First Ave since all of us really love it there," said Check.