Sophomore hosts common basket for Type 1 Diabetes
The common basket program at Benilde-St. Margaret's allows students to give financially to areas of need in our world. About 5 to 7 times a year, during Mass, staff and some students pass around handmade, cloth bowls for the student body to put in  money to contribute to a specific cause. The first common basket of the 2014-15 school year was offered in support of juvenile diabetes research through the science department and sophomore Elyse Vandersteen. Vandersteen has been battling type 1 diabetes for over 9 years and is an activist for the research and cure of the disease. The collection was a success and the total contributions were over $1,600.
Over M.E.A. break, Vandersteen traveled to California and raced at Death Valley in the Ride to Cure Diabetes to support her cause. The race was over 100 miles long in blistering heat, but Vandersteen is proud of herself and took a lot from it. "To be able to do what I love [bike] and support diabetes research was such a rewarding experience," said Vandersteen.
Elyse Vandersteen
Diabetes a condition where the body does not make it's own insulin and needs it from elsewhere. Type 1 diabetes is mostly genetic, and with today's advances in health care people with type 1 diabetes can live long, healthy lives, but they have to stay on top of their blood sugar and be careful. Living with diabetes is a heavy burden and it's a constant game of trying to stay within a healthy blood sugar range. "Every day I check my blood sugar about every three hours. When it's high my pump will give me insulin, but if it's low then I eat food to help balance it out again. When my blood sugar is low I act shaky, hot and sweaty, and I can't focus; and when it's high I get bad headaches and more irritable. It's important that I stay hydrated all day because that helps me stay regulated," says Vandersteen.
Type 1 diabetes is also very costly. There is insurance for the equipment, but it still adds up to be a lot. The strips that detect blood sugar come in packs of 50 and cost $65. "50 might seems like a lot, but I go through 4-10 a day so I feel like I'm constantly having to get more strips," says Vandersteen. Pumps are by far the most expensive part of diabetes because of the advanced technology and qualities it has to have to be functional in everyday life.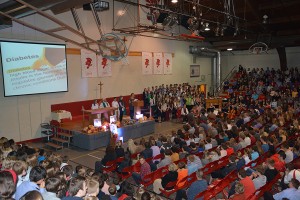 The common basket program at BSM has been very successful in supporting people in our world and own community who need our financial help. "About 7 years ago when I initially created the program, I knew the BSM community was doing a great job with service work, but we could do a better job of giving to others," stated RKVC leader and volunteer coordinator Lisa Lenhart-Murphy.
The common basket actually has a historic aspect to it. The Christian Brothers who formed BSM had an idea similar to give to those who are in need. "The Christian Brothers first educated poor street boys and once their schools became more popular, boys whose family had more money started sending their children to the schools. The difference between poorer boys and stable boys was quite significant, so the Brothers put a basket in the back of the class where students that had more than they needed of something could place it in the basket and those who needed things could take from the basket. The BSM community today took that similar idea for us who have more than we need to give to those who aren't as fortunate," said Lenhart-Murphy.