Freshman Peyton Melin organizes Lenten common basket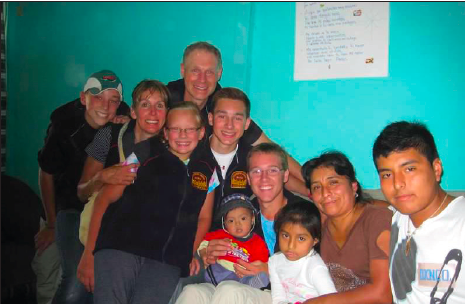 With the help of the BSM World Language Department, freshman Peyton Melin spent the week of April 1 raising awareness to the community of BSM about a small city in Peru, Flores de Villa, located about 30 minutes from the capital, Lima. "Lima is a modern city with a casino, hotel and even a Nike Outlet Store. As we drove from Lima to Flores de Villa, there is an obvious decline in quality of houses," Melin said.
Two summers ago, Melin traveled to Peru through a church mission trip. His mom, dad, and siblings all attended as well, along with many members of his church, Wayzata Evangelical Free Church.
Through the Peruvian Partners organization, started by Dave and Gina Stavros, Peyton and his family were introduced to Flores de Villa. "I did not know much about Peru or the organization until one of our church leaders sent out an email about a mission trip and my parents thought it would be good for us to do," said Melin. The Stavroses began their mission work in 1987 with their two children. Since then, they've built a church, a safehouse, and other smaller endeavors in the community.
Melin's project aimed at raising money for a new home for the mayor of the village. As of now, the mayor lives in a tiny cardboard home in the center of the Flores de Villa plaza. He is injured and on crutches, and has trouble providing for his family, let alone a whole village. "I think that building a house for the mayor will empower the community around him," Melin said.
On Monday, April 7, a Common Basket was passed at mass to raise money for the cause. Students, parents, and teachers all pitched in to help Peyton raise the money and build the new home. An anonymous donor has offered to match the amount donated. "We're left the baskets open for the rest of the week so people could continue to donate if they needed to," Melin said.
Although the Common Basket is a major way to raise funds, the church also has people donate in car washes and supports a community-wide pond hockey tournament. "This summer we are going back to Peru. I hope by then we have enough money for the project," Melin said.