Students look towards futures in the military
Around this time, most students are making decisions about perhaps the most important choice of young adulthood: college. What they choose will have an enormous impact on their future––which career field they will enter and how they may spend the rest of their lives. However, some students know exactly what they'll be doing in the next ten years and onward. Some students are determined to join one of the various branches of the United States Armed Forces, whether it be the Army, Navy, Air Force, Marine Corps, National Guard, or Coast Guard. Though students' backgrounds may differ, as well as their motives to enlist, their intention is largely the same: serve their country in the highest possible way.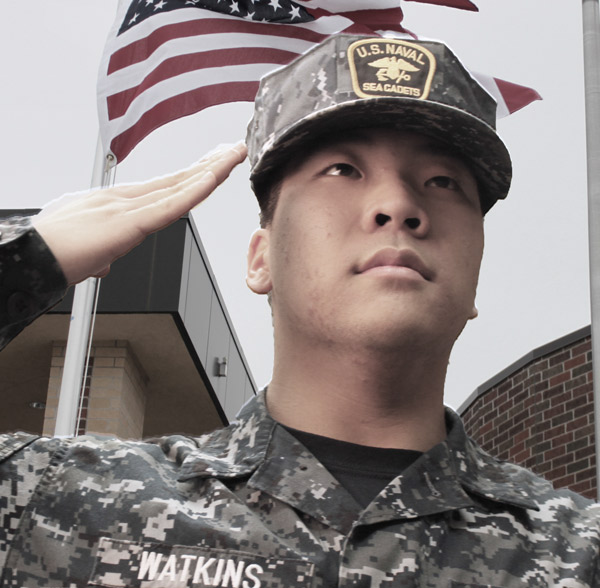 Peter Watkins
Most young children have elaborate dreams of becoming a doctor, an astronaut, a firefighter, or police officer. But when Peter Watkins said he wanted to be a soldier in the United States Military, he meant it. Ever since he was a little kid, senior Peter Watkins knew he wanted to serve. "I saw a commercial for the Army and thought that was awesome. I always dressed in army camo and watched military movies," said Watkins.
Watkins' grandfather has had a monumental impact on Peter's journey, advising him throughout his life, especially in his choices about the military. "My grandpa is a World War II veteran, and has guided me along my military path throughout my teen years. He is my inspiration," said Watkins.
In order to prepare for his time in the military, Watkins has gone through several years of demanding training and camps. "I have been in the US Naval Sea Cadets for about 3 years now and often go to different Army and Marine bases around the country," said Watkins.
Over the summer, Watkins spent a lot of time, working on his marksmanship and shooting with Special Forces soldiers. "The first step to preparing for the military is boot camp, you do two weeks at boot camp, both of which you are drilled by Marine Corps Drill instructors," said Watkins. After boot camp, there is then SEAL training, leadership training, marksmanship training, and stem training. "At all of these camps/trainings, I was the honor cadet," said Watkins.
Becoming a member of ROTC is extremely demanding and requires intense mental and physical strength. "You have to go above and beyond what you think you can do. I went to the camps which showed that I was committed, I took on leadership roles, and I performed over 600 hours of volunteering, which proved to the military that I acted beyond myself," said Watkins. Besides doing hands-on work, Watkins also developed relationships with army members. "I established connections with military personnel that could write me good recommendations, and advise me on my future," said Watkins.
Before settling on Iowa State, Watkins restricted his college search to those with the ROTC program that best suited his needs. "I based my decision on how good the ROTC programs were, and Iowa State has a great ROTC program. Being in ROTC is similar to being on a football team. The better you play, the more playing time you will get. In ROTC, the stronger you perform, the better chance you will be deployed," said Watkins.
Watkins was recently awarded an ROTC scholarship in which the military will pay for three full years of his education at Iowa State University. There, he is planning to earn an engineering degree, as well as training to become a 2nd lieutenant. "My plan is to become an Army Ranger with airborne tabs," said Watkins.
After ROTC, Watkins has military requirements to fulfill. "I have an obligation to serve eight years after graduating, but I would like to turn my military service into a twenty plus year career."
Joining the Army Rangers has always been a major goal for him, as the qualities of this branch greatly appeal to him. "The brotherhood aspect appealed to me because I am an only child, putting my life in the hands of these people is appealing to me," said Watkins. But the extreme brotherhood aspect of the Army is not the only appealing piece to "Let's be honest, their new gear is really awesome," said Watkins.
Hunter Downey
Junior Hunter Downey is taking a practical approach to entering the military. He plans on attending college and subsequently entering the military when he earns his degree. "I plan on going to a school that offers good scholarships for servicemen or ROTC," Downey said. He wants to capitalize on any opportunities open to him and gain as much experience as possible going into the military.
Currently, Downey is rigorously working to improve his physical health this upcoming spring and summer, running on average 2-3 miles per day and training with Army ROTC programs. His goal is to drop close fifty pounds to fall into a more suitable weight class as he enlists. "I'll have to be in good running shape especially, and I really have to work on endurance; if you enter training being out of shape you'll regret it. I just want to put the work in," Downey said.
After college, he hopes to either work in the Army as an infantryman and progress to an officer position or serve in the Air Force, "Really any kind of support I can give my fellow troops I'm certainly happy to do," said Downey.
"I [want] to join because of the prestige and opportunity of serving my country in the highest form, and being able to have bonds with my fellow soldiers," Downey said. His love for his country is a primary reason for his desire to serve, as he feels he is best suited for this line of work.
Downey feels that working alongside others with a similar passion is the greatest contribution he can make for a country that has given him opportunities such as a private education and a freedom to pursue his own goals. "The United States is the greatest country in the world, and has equipped me with the tools to be the best I can be. By serving, I can help keep that system in place and others can have the same chances I did," Downey said.
Mark Falls
Mark Falls's interest in joining the military was sparked by sheer curiosity. "My old neighbor was a Green Beret, and he would never tell us any stories about his service," said Falls. Because of the mysteriousness of this neighbor, Falls's intrigue inspired him to look into the military during his junior year.
He has begun looking into ROTC programs at various colleges, and is so determined to enter the military that his college searches have been restricted. "I've limited my college searches to colleges with a very solid ROTC program" said Falls.
The Army, specifically the Army Rangers appeals to Falls because of its core values and its reputation. "The list of core values being integrity, loyalty, honor, and selfless service makes it one of the most honorable professions out there. Although it is one of the hardest branches to get into, it would be rewarding because of the pride I would have knowing that I am part of the most elite group of soldiers in the world," said Falls.
The Army Rangers also appeal to him because of real-life inspirations. "My brother-in-law's friend is an Army Ranger and when he told me about it, something just clicked," said Falls.
After college, if Falls does join ROTC, his plans are to be deployed and make the most out of his time of service. His goals within the Army are to become an officer. "I want to become an officer, specifically a major."
Falls is not only determined to go above and beyond, but is intrigued by what the future will hold. "I'm excited about my future with the military, I believe that it will be a very interesting experience," said Falls
Colleen Alexander
Colleen Alexander's interest in the military was influenced early on by her family's military history. "I think what sparked my interest was just the hope it gave me. Both my grandpas were in the military and inspired me to pursue it," said Alexander.
This difficult career choice has taken some convincing for those closest to her. "My mom was always very worried about life in the military. Finally, during my sophomore year, she decided it would be okay because it has always been my dream," said Alexander.
Even though she has known she wants to be in the military from a young age, Colleen remains undecided about which branch she plans to enter. "The navy appeals to me because I can feel that sense of protecting Americans when I would go to war. Also, in the Navy, I would want to be a fighter pilot. I am looking at the Coast Guard because they teach you how to save lives. In the Coast Guard, I would want to be a helicopter pilot or a rescue swimmer," said Alexander.
In order to do this, she has prepared herself in a variety of ways. "I have prepared myself for the military by being disciplined, working very hard for the things that I am asked to do. I tell the truth, I am very loyal, I work to keep my body in shape, and I am devoted to my religion and faith," said Alexander.
Alexander has set personal goals, but also goals much bigger than herself. "Within the military I have always wanted to become an admiral. I would also like to see the rule change on women becoming Navy SEALS and maybe become a SEAL myself." said Alexander. After the military, Alexander plans to continue serving her country. "After the military I want to be in the Secret Service or FBI," said Alexander.