With a talented group of underclassmen, the girls' basketball team strives to become conference champions this year. Having three game-changing seniors graduate last year, the 2012-2013 team plans to work extra hard this year to rise up from their current underdog ranking.
With a full season ahead, the captains have voiced their goals for the year and are determined to work together to reach them. "We would love to be conference champions again and see if we can do well in sections," senior captain Abby Minea said.
However, with this goal comes challenges. "Our biggest rivals are probably Cooper, Minnetonka, Eden Prairie, and DeLaSalle," junior captain Grace Coughlin said.
Another challenge for the Red Knights will be overcoming the losses of 2012 graduates Alexa Hansen, Josie Dillon, and Khadijah Shumpert. "I don't think you can really make up for them, they were pretty good players…they don't come around very often. We're going to have to change our style," head coach Mr. Bob Lyons said.
A style change will be important for a girls' basketball team that consists of young players who haven't played at the varsity level. "There are only two seniors and four juniors on the varsity team this year. Therefore, the large majority of our team consists of underclassmen," senior captain Kaitlin Duda said.
To get ready for the season ahead, the girls' basketball team held summer training, captain's practices, and many hours of open gym. "These girls have been working hard since the week school got out, and we're ready to show everyone what we're made of," Duda said.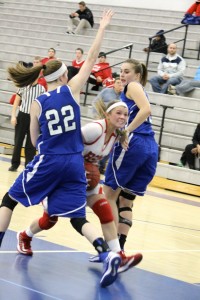 Having many new players added to the team this year, some strategies had to be changed. "This year we have put in a completely new offense that allows us to focus on continuous movement and fast cuts to the basket," Duda said.
"We have a lot of young kids. We're still going to do a lot of the same things [on offense]. We can kind of forecast two to three years out, it will play to our strengths more. Before our strength was size, now we have less size, but more quickness," Mr. Lyons said.
Although the quickness will help the team, the height loss will be tough to overcome. "We don't have the luxury of throwing the ball up in the air knowing that Khadijah is going to come out of nowhere to catch the pass and score the bucket," Duda said.
With the turnout of seniors significantly decreased this year at tryouts, the team now holds two seniors compared to the seven that played in previous years. "We've adjusted and now have room to expand the program into the younger grades to start prepping the talent in years to come to play at the varsity level," Minea said.
With the lack of height and a decreased number of veteran players, the girls' basketball team is not discouraged. With these changes, they still have a few tricks up their sleeve. "We have other strengths such as speed that will help us succeed despite our lack of height," Coughlin said.
The girls' have a lot of adversity to overcome this season, but everyone remains confident in this historically successful program. "That's the nice thing: we don't have any expectations [for the season]. We're going to keep getting better each week. I think we're going to surprise some people with what we can do by the end of the season," Mr. Lyons said.