Loyolacappella to perform at BSM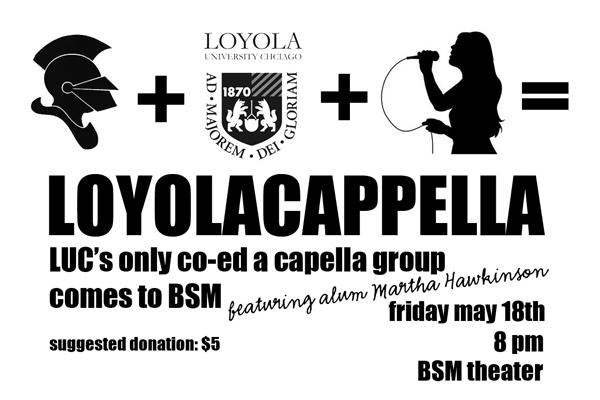 For its final fundraiser of the year, Loyola University Chico's co-ed a capella group, Loyolacappella, will be performing in the Hamburge theater on Friday, May 18 at 8 p.m.
This fundraiser is very important for Loyolacappella, as the money will go towards finalizing its first CD in over five years. The group asks for a suggested donation of $5 in exchange for a wonderful night of live, a cappella music.
Loyolacappella has been around for more than fifteen years and currently has fifteen members, including BSM 2010 alum Martha Hawkinson. The singing group focuses primarily on pop music, including songs by Maroon 5, Paramore, Britney Spears, Ben Folds, Bruno Mars, Guster, and Sara Bareilles.
Check out Loylacappella's YouTube page:
http://www.youtube.com/user/loyolacappella?ob=0
Email Martha with any questions concerning the concert at [email protected]
About the Writer
Emma Eldred, Online Editor-in-Chief
Emma Eldred is a really funny person. She has outstanding hand-eye coordination and excels at sports. Emma hates the theater and is a dedicated member...