"Sleepless in Seattle" is a romcom classic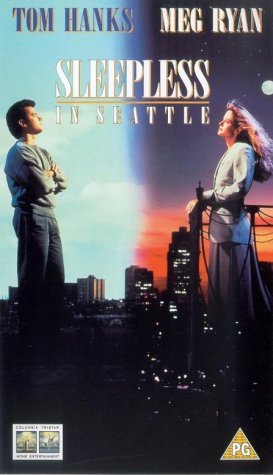 Sleepless In Seattle is one of the greatest romantic comedies of all time and is the crowning jewel of the Tom Hanks-Meg Ryan romcom trilogy (which also includes You've Got Mail and Joe Versus The Volcano). It's difficult to properly contextualize my adoration for this film, but I can try.
What makes Sleepless in Seattle so amazing is its interweaving of comedy and tragedy, in a way that leaves you on a constant emotional rollercoaster. This movie can take you from laughing at a stupid joke to feeling sad for the main character's situation in life.
The main character is Sam Baldwin, played by Tom Hanks–the god of romcoms. Sam Baldwin recently lost his wife and is trying his best to be brave for his son, Jonah. Sam's dedication to his son which he must put in front of his own needs–primarily, Sam's feelings of loneliness without his wife–is the emotional crux of the movie and ties it all together. The plot really kicks off when Jonah calls into a radio show and manages to get Sam to talk a bit about the loss of his wife. This causes an outpouring of sympathy from women across the country.
Meg Ryan's character, Annie Reed, is a reporter who is in a relationship where she feels there is something missing. She hears Sam on the radio and this leads to her seeking him out. I won't spoil the plot anymore, but from here on out we get a touching story about two people whose lives feel incomplete and how they find each other.
Tom Hanks is in one of his best roles yet, as he plays a man racked with inner turmoil and grief. A far cry from his usual comedic roles or roles where he plays a snarky, sarcastic character. We also get to see Meg Ryan portray a character that's unsure of herself, and still shows lots of growth. A more optimistic role compared to a more ideologically realistic character she might portray in a movie like You've Got Mail.
I recommend Sleepless in Seattle to anyone who wants to experience a film that reaches out to those that feel alone. A story about people trying to keep it together during trying circumstances, and how sometimes we have to let ourselves fall apart.
"
I recommend Sleepless in Seattle to anyone who wants to experience a film that reaches out to those that feel alone."
— Sol Doyscher