BSM teacher inspires women through business and blog
Strong Capable Woman is a non-profit clothing brand founded by BSM's own Ms. Kirsten Hoogenakker that is meant to empower women in today's world. Hoogenakker, or 'Kiki', as she goes by on Strong Capable Woman's website, is an engineering and biomedical science teacher here at BSM.
Before it adorned their t-shirts, the origin of the phrase 'strong, capable woman' ––the brand's name and main focus of their products––actually came about by accident. In her free time, Hoogenakker competes in bike racing for her Kingfield Race Team. "They began as embarrassing words that came from one of our (bike) races when a teammate of mine was in second place and was really struggling, but was in a position to close the gap. I had read about the importance of strong language when trying to motivate others so I just yelled 'you are a strong, capable woman!' to her," Hoogenakker said.
Hoogenakker's biking team remembered the phrase and it became an inside joke of sorts between them. "It turned into a joke on our racing team when we were struggling during workouts which leaked outside of racing and became a mantra for motivating myself and others to motivate ourselves to accomplish the things we think or society thinks we can't," Hoogenakker said. After that, even some of Hoogenakkers' female friends and students took to the phrase.
For Hoogenakker, the brand was birthed after an attempt of hers to explore website-design and the world of e-commerce. "I started an LLC, 'Techiki', and Strong Capable Woman is just a sub-domain of that. I wanted to get some experience building an e-commerce website," Hoogenakker said.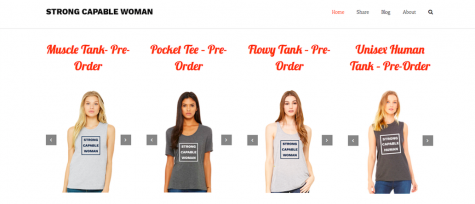 Though designing websites and serving as the sole proprietor of a budding brand would be stressful for many, it was a source of relief and solace for Hoogenakker. "I've been working on this web development stuff for a little over a year. It's something I don't mind doing when I have some free time and it's actually been really fun," Hoogenakker said.
In keeping with the origin of Strong Capable Woman, Hoogenakker wants both the monetary and social impact of the brand to remain tied in some way to the biking community. "We have a really active (biking) chapter here in the Minneapolis and St. Paul area so it seemed like a good place to start," Hoogenakker said.
The "end goal", as stated on the site, is to donate the proceeds from the t-shirt sales to a "female-forward non-profit." Though Hoogenakker isn't sure exactly how much that amount may turn out to be, she does know who she wants to start with––The Little Bellas. "I'm hoping to donate some of the proceeds to The Little Bellas––they're a nation-wide organization aimed at getting girls aged 6-18 into mountain biking and downhill biking––an activity that is disproportionately dominated by men," Hoogenakker said.
Though, at the time of writing, Strong Capable Woman's site only contains portions of Hoogenakker's blog and personal story, she is looking to change that. "I'm hoping that other people have stories to share because I know we have a really strong female cycling community and women/trans-fem cycling community in the Metro area and getting those stories out really strengthens the identity of the Twin Cities as being a really accepting place," said Hoogenakker.
Originally, the company had 3 different tops for sale. The 'Muscle Tank', 'Pocket Tee', and 'Flowy Tank' are all currently available for pre-order. The design is simple: the tops come in two hues of grey, bearing the phrase that functions as the company's name and mantra in the middle. Most recently, however, a new product was added that diverges slightly from the other 3 styles. "We just introduced a new unisex t-shirt style this week after a request I got from a woman for a more inclusive option. This one reads 'strong capable human' instead," Hoogenakker said.
"
Everybody does better when we build each other up; I'm really into positive things."
— Ms. Kirsten Hoogenakker
This idea of inclusion is an integral part of what Hoogenakker and Strong Capable Woman stand for. The goal of Strong Capable Woman, as stated on their website is to "inspire women, let them know they are empowered to meet any goals they may have." The site is full of intentionally inclusive language and pronouns. "Everybody does better when we build each other up; I'm really into positive things," Hoogenakker said.
Not only that, according to the website, all of the Strong Capable Woman's products are printed by a woman-owned print shop––The Bitter Buffalo. "I felt like I couldn't have this women empowerment website and then go off and get everything printed by a shop that wasn't also focused on women," Hoogenakker said.
The 'Flowy Tank' and 'Pocket Tee' currently retail for $25.00, while the 'Muscle Tee' and 'Muscle Tank' cost $20.00. According to Hoogenakker, pre-ordered shirts will begin to ship to customers and will become available for purchase the week of March 19th.