BSM hockey goalies share their experiences
BSM goalies reflect on what it's like to be in the crease.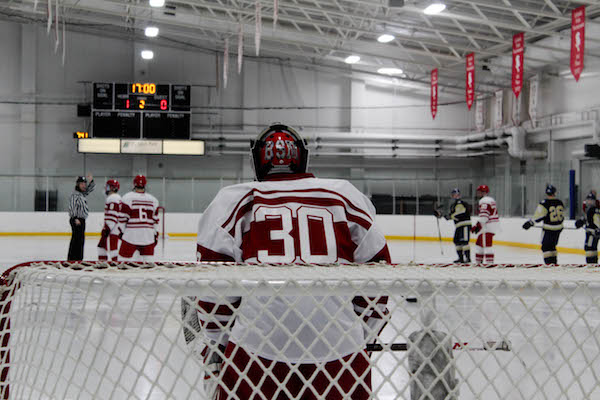 Wanting to stand there, even though fully padded, and have people fire hard, rubber discs at you anywhere between 75-90 MPH would seem to be a bit of a crazy notion. If that's your passion, however, maybe it's better to find out you're a little crazy at an early age.
"I had always wanted to be a goalie while I was in mites and squirts. I would sub in as a goalie because our teams didn't have one. I started playing goalie full time in bantams," junior Johnny Vitelli said. Vitelli has been the main goalie this year for the boys' junior varsity team and has backed up varsity starter, freshman Carson Limesand.
A goalie's existence can be a difficult one. There can be stretches of a game when the team is playing well and you don't see much action, but every time the puck comes your way, you aren't afforded any mistakes, which can be difficult if you're not playing every game.
Sophomore Carly Greene and senior Paige Greeley have handled things for the girls' varsity team this year, with Greene seeing the majority of the time for the team's first 10 games. "It's a little difficult when you're not playing but you have to be ready to play," Greeley said.
The senior started her goalie career as a first-year U10. Greene, who also began her netminding as a U10, echoed Greeley's sentiments about wanting the crease. "It's hard when you're not playing," Greene said.
So, goalies want to be in net, having to make a save to preserve a victory or keep their team in the game. But how do you go about getting ready for what can be a stressful night? The answer would probably bring a smile to Roger Federer's face."I throw tennis balls off the wall." Limesand said. Referring to the practice of sharpening his reflexes and hand-eye coordination before a game.
Greeley also keeps her sense sharp with the aid of a few tennis balls prior to taking the cage. Vitelli takes a different route. "I like to get a coffee and do some meditation before a game, it helps me clear my head and get ready," Vitelli said.
Getting ready to help backstop the Red Knights to a victory is one thing, but what about scoring the game-winning goal? "Sometimes when we play terrible teams I'd like to skate out," Limesand said. Both Greeley and Greene have thought about being a skater instead of a goalie, but for now, they will continue to help the girls tack on the wins.