Boys' hockey looks to bounce back after tough season
The storied hockey program looks to prove doubters wrong and go back to winning ways.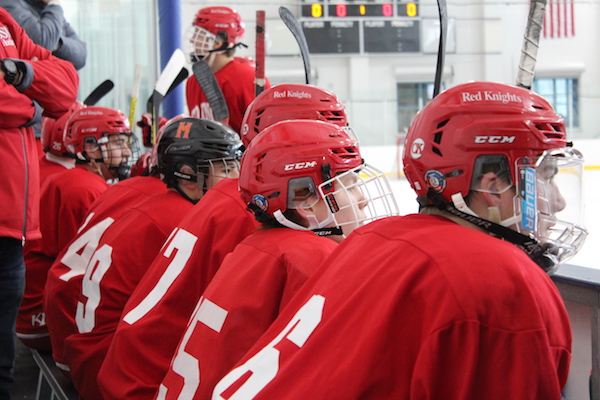 The boys' hockey team is looking to make big strides this year, thanks to strong leadership and a challenging off-season training regimen. With a strong core of experienced and talented seniors, an Orono transfer, and many new skilled freshmen, the team comes into the season mentally and physically ready to perform.  
The past year has been challenging for the Red Knight hockey team.  With a losing record and a lot of graduated seniors, the new varsity team faced a lot of criticism and negative feedback from students in the halls and critics online. While adversity like this can break people, for the boys' hockey team, they used the doubt as motivation for their success.  "Everyone that talks bad about us motivates me. We had a bad year last year and a lot of people still doubt us, and I am here to prove those people wrong," senior Joe Collins said.  
The summer was filled with a lot of practices and a dedicated weightlifting routine.  The strong senior class, mixed with some young, potential talent will prepare the Red Knights for a strong outing on the ice this upcoming season. The offseason was key to the hockey team because it prepared them mentally and physically to weather the demands of a challenging and long season.  "During the summer we have what we call STP, or Summer Training Program. Four times a week, we're on the ice working on the basics, skill work, and scrimmaging. After skating, twice a week we work out with Fortis Academy, a hockey training program run by Josh Levine who helps us as well," senior Jordan Roo said.  
The offseason was extremely rigorous. "STP was a little more serious this year so that we set a tone that was more towards hard work and success," senior captain Nate Clark said.  
"
Everyone that talks bad about us motivates me. We had a bad year last year and a lot of people still doubt us, and I am here to prove those people wrong."
— Joe Collins
The hockey team is driven and ready to grind throughout the season, with their sights set on the State Tournament. Winning is a trend that has been historically ingrained into the culture of the BSM hockey team. In the past, the team has been a very strong State contender.  This culture of winning is something that this year's seniors want to truly embody—a strong bond and motivated attitudes are absolutely crucial for success this winter.  "For me, my teammates were the ones who have motivated me. Throughout the summer and early fall, they have helped push me outside my comfort zone to become a better player," Roo said.   
The team will miss the influence, leadership, and capability of the seniors before them, but they are confident they can match this leadership. They are ready to take on the strong championship traits of the players before them and come into the season with a positive and ambitious mentality.  "I think some differences from the past years is the bond we have now. We have been together for some time now [and] we went from just knowing [each other] from hockey and only hockey, to being a group of friends off the ice," Roo said.