Students play club sports during the off-season
Even though school sports can be very demanding and time-consuming, some students participate in club sports teams for additional training and exercise during the season or to stay fit during the off-season.
Sophomore Malinda Beason is an intense swimmer. She is not only committed to BSM's swim team, but also her club team. She swims five to six days a week for three hours to practice. "Club technically goes all year round so it never really ends, but I usually start right after the school season ends, so this year I went to State in swimming, so I took a couple weeks off before I went back to club," Beason said.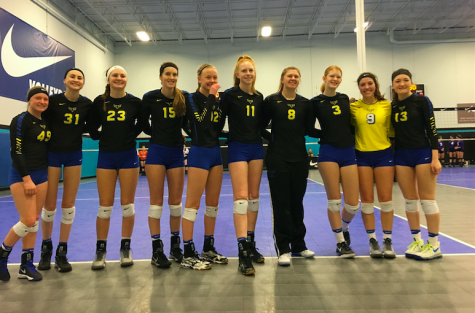 Even though club is a high priority in her life, she favors the school season to the club season. She has greatly improved due to the year-round training her club team offers and   has formed friendships over the years. "I like high school because it's a different environment. I like both, but I wouldn't choose [club] over [school]," Beason said.
Freshman Kyle Wallace plays soccer for a club practicing four times a week for an hour and a half, and usually has scrimmages or games, too. He also travels out of town to states like Wisconsin or Iowa. He plays for a premier team, which is one of the highest levels of club soccer. "At club, a lot of the players are from all over, so you get a lot of connections from other places. You play with really good players, so it's super fun," Wallace said.
"
[I like] knowing people from other schools because I would have never met them. It's kind of a nice getaway from school."
— Anna Carr
Wallace plays both the school season and the club season. School is fun because he gets to play with his friends; however, the variety of players and just the enjoyment makes club truly stand out for him. "I would probably choose club over school if it came down to it," Wallace said.
Junior Anna Carr is a very committed volleyball player. She has two practices a week, which last for three hours with tournaments on Saturdays and Sundays. She also goes out of town a lot as well. "I like how I can make friends. There is only one BSM girl on my team, Sophie Hathaway. [I like] knowing people from other schools because I would have never met them. It's kind of a nice getaway from school. If I had a really rough day, I can go there and my friends don't know any of the drama that's going on and I can talk to them. I feel like I improve a lot too," Carr said.
Carr plays club from November to June and plays in the school season from June to November, so she is constantly training and practicing. She also plays at an elite level for club as well. "I like school season more than I like club because I like being with the girls a lot and I think it's a lot more fun having people that you know come watch your games. The practices are more stressful for school, but the games are more fun. [Whereas,] for club the games are really stressful, but the practices are really fun," Carr said.