STEM program misses out on crucial elements of well-rounded learning
Benilde-St. Margaret's often boasts  its globally active ACS Engineering programs, new Biomedical Engineering class, and various AP mathematics classes––all geared towards a STEM learning system or style. However, if this is beginning to be BSM's main focus of education, it leaves students whose strengths lie in the English, world languages, history, music, or any other fine arts fields with fewer classes, less recognition, and less preparation for the future careers they may want to hold.
Not every student is strong in science, technology, engineering, or math subjects, and if the school continues to only add classes that will get students a job somewhere in Silicon Valley, the students that want to immerse themselves in various fine art classes––whether that be clay, drawing painting, choir, English, etc.––will be at a loss due to the limited classes they can take.
Over the four years I have been at BSM, I have seen multiple classes that I or my fellow students have wanted to take that were completely removed from the curriculum that year because of a lack of interest among students. The more alarming part is that those classes have specifically been art or English classes––Silkscreen and Twentieth Century Drama, to name a couple. Silkscreen isn't even offered as a class anymore in the Senior High Program of Studies.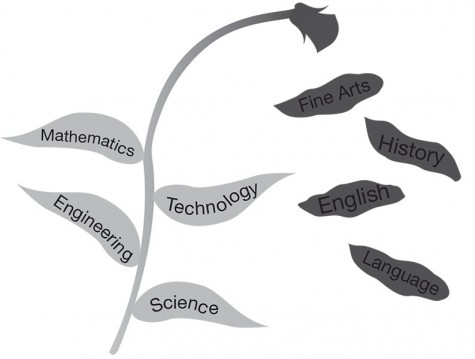 Obviously, different academic years will bring a variety of students, filling or not filling the selection of classes that BSM offers. I also realize that these classes aren't necessarily crucial to building career experience or research, but what the concern should be is that there had to be a limit set on what students were allowed into Biomedical Engineering, yet more English and art classes are being dropped every year, giving fine arts-oriented students fewer opportunities to discover and use their strengths before going to college.
STEM programs and education are at the cutting-edge of academics and careers––there is no denying it. Many schools are turning their curriculum towards preparing students for STEM employment, because it is becoming the basis of many career fields. Although these studies are competitive and lead to well-paying jobs in the future, there needs to be a fine line between the STEM approach versus STEM domination in schools. If the English, history, and fine arts programs are slowly declining or being eliminated from curriculum, the non-STEM directed students, are not going to be given enough outlets to prepare them for the careers they could pursue, or decide which facet of fine arts they are keen on. In addition, students are going to begin to think they have to follow a STEM path through their studies or careers, when there are majors, jobs, and studies being created everyday outside of the STEM fields.
BSM's shift to more science, technology, engineering, and mathematics-based courses is one that will definitely fulfill the needs of the students yearning to be employed or conduct research in STEM fields, but what happens when those students have struggles drawing out their plans, writing a thesis paper, or orally presenting ideas to their peers and executives? It's all relative: whether strong in the subjects or not, fine arts and English can almost always be intertwined in the STEM subjects.
BSM strives to offer a well-rounded, diverse course load, but if a group of students is being limited in their experience––high school or future––it is crucial to find a balance between a STEM curriculum and a fine arts curriculum. The need for developing the English or fine arts students is still prevalent, and there will always be students wanting to pursue those fields as well.
Leave a Comment