One Act cast list announced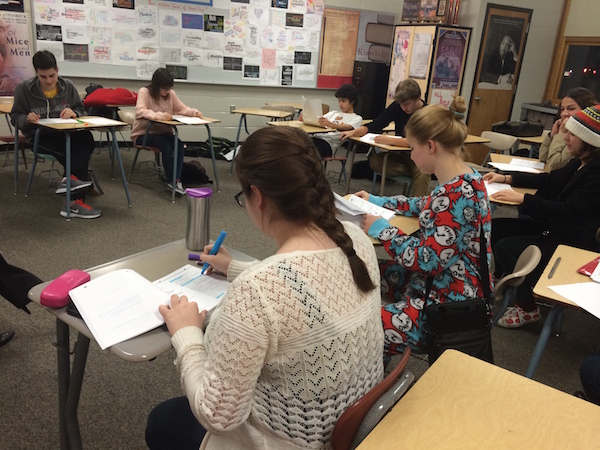 With the auditions done and the cast list announced, the One Act play, These Shining Lives, is underway. The group, consisting of ten actors and five crew members, is eager to rehearse and present this unique drama to those in the audience as well as the judges of the One Act competition. Every year, the One Act play is chosen with great consideration of the cast and current events. This year, the production focuses greatly on a very controversial topic: worker's rights. "I think it's going to give a direct message to the judges, and I think it will be a great opportunity for the audience to hear about the problem," BSM junior Josie Ross said.
Ross is a leading actress in this production, playing factory worker Catherine Donohue. Ross has been a part of over 40 productions both at BSM and with other theater groups, from being a pregnant rebel in Urinetown, to a rugged gym teacher in Junior High the Musical. She has also been in two other One Act performances at BSM. Her freshman year she took the stage as Scout, in director and English teacher Ms. Maura Brew's interpretation of a classic novel, To Kill A Mockingbird. As a sophomore, Ross also undertook the role of Lisa in the One Act drama, Falling. "In the past, I've always played characters that are more spunky and really aggressive with their demeanor. For this character, I'm going to have to control my emotions," Ross said.
Another prominent actor in this production is BSM junior Leo Driessen, playing factory owner and supervisor Mr. Reed. Dreissen has also been very involved BSM theater productions, including The Wizard of Oz, Urinetown, and The Seussification of Romeo and Juliet. "This is my first One Act at Benilde-St. Margaret's, and I'm really looking forward to it," Driessen said.
Although the cast is the people who are on stage performing, there are other people back stage to make sure everything goes smoothly. The crew members are just as important as any other member of the overall team, and they are also working hard so that the One Act is the best that it can be. "There aren't very many crew members for the One Act, but we know we're capable of putting on a good show for everyone who sees it," BSM junior, Macy Rooney, said.
Because the cast is small, it is essential that there is good chemistry among the actors. Not only is it a small group of students, but there are several actors who have never been in One Act before.  "I think it's really important that there's new high schoolers getting involved because it's going to build a better community. It's also going to help fine tune all of our talents," Ross said.
Working hard at rehearsals, the cast and crew are eager for the oncoming season. "Everyone involved is very talented, and we're all looking forward to the performances, as well as the competition," Driessen said.