Hip-Hop Resurrection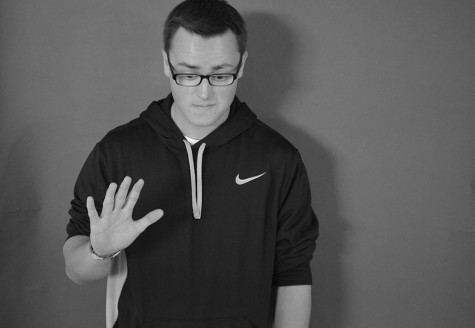 More stories from Zach Smith
Christian rappers embrace their beliefs and faith in the production of their music, creating a reflective and attractive sound that appeals to a massive audience.
It is easy to fall into the vulgar, yet catchy, rap music popular in today's music scene; however, not every music listener is drawn to the raunchy and repetitive rhymes about "liking big butts" and what someone did "about a week ago." Many music enthusiasts, in fact, do not affiliate themselves with modern-day hip-hop, seeking peace and pleasure in other music genres such as alternative rock, techno, classic rock, pop, and country.
There are a limited number of Christian rappers basking in the glory of their fame and success, due to the difficulty of making their music as a religious-oriented lyricist in a world packed with gang violence, baggy pants, and sexual innuendos. In addition to the struggle of professing their confidence in Jesus Christ through their rhymes while maintaining a colorful and inviting vibe, these emcees must gain the respect of other hip-hop artists and those intrigued by this type of tune.
Prominent Christian emcees include Lecrae, Andy Mineo, Trip Lee, KB, and tobyMac. An abundance of music listeners are familiar with tobyMac, who is one of the first and best-known Christian rap artists. Today, the vast majority of Christian rappers sprout from the same record label, Reach Records, while some push for attention independently as well.
Reach Records is an independent record label that specializes in Christian rap. It was founded by Ben Washer and an acclaimed Christian hip-hop artist named Lecrae in 2004. Southern Christian hip-hop group, 116 Clique, was built on the drive of artist Trip Lee and his fellow Reach Records mates. Centered on the motto, "The Music of a Movement," the mission of the group is to reach the hearts of the people with the theme of healing through the art of music.
With a recent increase in its popularity, Christian hip-hop has often been displayed in the media lately. This year marks a record year for the Christian hip-hop genre, as three artists from Reach Records released albums that scaled the iTunes charts, each earning a number one spot on the top albums list. Andy Mineo's "Neverland EP," Lecrae's "Anomaly," and Trip Lee's "Rise" all held positions on the chart.
Recording artist Lecrae made history with his single "All I Need Is You," when it reached the number-one spot on iTunes and surpassed the mainstream hits "Anaconda" by Nicki Minaj and "Bang Bang" by Jessie J. With this accomplishment, Lecrae became the first Christian hip-hop artist of all time to secure a seat at the top of the iTunes song chart. "It's way bigger than genres and charts. I'm fighting to be a voice in culture. A voice in a dark world," Lecrae said in an interview with The Christian Post.
With the continuous development and advertisement of Christian hip-hop today, people have the opportunity to undergo a significant alteration for the better. In the end, it is not all about whether the song quotes bible passages or praises God; rather, it is about the message surrounding this up-and-coming music genre, and how it can be employed in providing individuals with another perception of their world.