Chef brings Latin fusion to Minneapolis and Marinates in Success
Ruiz launched his appetizing trilogy in 2007 with Café Ena. The restaurant's success prompted Ruiz to open Rincón 38 in 2013 followed by La Fresca in 2014.
Born in Los Angeles, Hector Ruiz grew up in Mexico where his mother's home-based restaurant ignited his passion for cooking. This early enthusiasm inspired Ruiz to become a professional chef. At age 17, Ruiz moved to Chicago and began working in his first professional kitchen. The budding talent Ruiz displayed at this young age persuaded his bosses at Lettuce Entertainment to send him, along with a team of chefs, to set up a new restaurant in the Mall Of America: Tucci Benucch. Ruiz worked at two other restaurants before his coworkers convinced him to study at Le Cordon Bleu in Mendota Heights, where he was awarded the opportunity to apprentice Master Chef Alain Senderens in Paris. When he came back to Minneapolis, Ruiz worked as the Executive Chef at Prima and Three Fish, then was the head chef and owner of El Mesón, before it closed in 2012. As he worked at El Mesón, Ruiz opened the first in a line of his own successful restaurants, Café Ena.
As a child, Hector Ruiz's passion for cooking was nurtured and inspired by his mother's home-based restaurant in Mexico. At 17, Ruiz had a job in the professional kitchen of Lettuce Entertainment. He has spent the last seven years opening gourmet restaurants that blend his mexican background with his French education in South Minneapolis. Ruiz launched his appetizing trilogy in 2007 with Café Ena. The restaurant's success prompted Ruiz to open Rincón 38 in 2013 followed by La Fresca in 2014.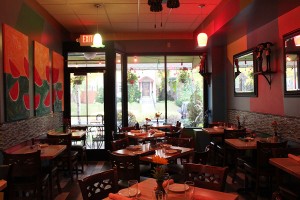 Café Ena
Café Ena's decor suggests a sense of warm comfortableness as well as a contradicting formal aspect. The owners of Café Ena, Hector Ruiz and Erin Ungerman, describe the menu as "latin fusion," inspired from their trips to Latin America. The classic latin dishes have been adapted with a French presentation and an americanized palette. The menu has a variety of fish, red meat, and a few vegetarian options.
La Fresca
La Fresca is the newest of Ruiz's restaurants but has already shown it can fulfill his legacy. La Fresca's menu experiments with traditional Mexican dishes and spices to create fresh combinations, creating a nouveau Mexican experience. At La Fresca, Ruiz expands into a Mayan theme and enhances a home grown dining experience. La Fresca's dishes are, in general, less spice-based than the other menus. Although La Fresca's menu is predominantly fish based, the variety of dishes will please everyone. La Fresca presents a new level of Ruiz's talent for converting classic dishes and flavors, while maintaining the authentic standard Ruiz sets for all his latin-inspired food.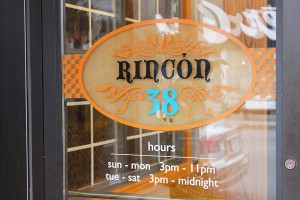 Rincón 38
Rincón 38's relaxed and intimate mood, as well as informal dishes, gives the atmosphere a laid back feeling while still offering delicious food. Compared to Café Ena's formal dining and La fresca's casual family dinner setting, Rincón is a relaxed tapas-style experience because of its appetizer-like meals. Rincón's dishes are the perfect size to share or eat alone. The wide selection offers something for everyone and a familiar latin flavor throughout the menu.